Why Our Family is Taking the "Wait Until 8th" Pledge
August 29, 2017|Posted in: Parenting, Tech
Like many folks, I have a complex relationship with technology. A self-described gadget geek, I love innovative, techy products. I work for a cutting-edge tech company in Pittsburgh. I love iPads and iPhones and my MacBook Air and how all of my devices "talk" to each other.
Yet, to some degree, I'm also terrified of technology—specifically, the impact that technology is having on our kids. Even more specifically, I'm worried about the impact that smartphones are having on our children.
In the hands of a child, untethered access to social media and the Internet is akin to opening Pandora's Box. Children don't yet have the wherewithal or the reasoning skills to recognize the dangers inherent on the web. Even the smartest, most responsible kids may find themselves ensnared in situations that quickly spiral out of control, including cyber bullying and exposure to sexually explicit content.
My child is only 7 and already has begun asking when she's getting a smartphone. Like many kids, she loves playing games on the iPad and is wowed by gadgets and gizmos. As she traverses the waters of second grade, I'm willing to bet that some of her classmates and friends will be receiving smartphones in the next year or two. This will lead to peer pressure to conform–not only among kids, but among their parents as well. After all, no parent wants his or her child to feel like the "odd one out." FOMO is real, especially amongst kids and young adults.
That's why, when I came across the "Wait Until 8th" movement on Facebook, I knew I had to get involved. Wait Until 8th is a movement started by Brooke Shannon that encourages and empowers parents to delay the smartphone until at least 8th grade. More than 2,000 families from 49 states and nearly 500 schools have signed the pledge. And yes, we signed it, too.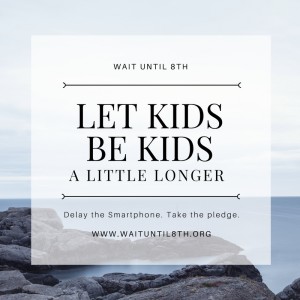 Shannon, a mom of 3 from Austin, TX, says that she started the movement after she began seeing children as young as first and second grade showing up at school, play dates and birthday parties with the latest smartphones.
"We questioned why young children needed this technology," she writes. "As we started to ask around, many parents said they eventually caved on the smartphone because 'everyone had them' and they did not want their child to feel left out." Shannon and her friends banded together to launch the movement.
"The one message we hope parents and kids learn from this campaign is that childhood is too short to waste on the smartphone," she says.
The Wait Until 8th website has plenty of information about why parents should delay smartphones until 8th grade (at least). For instance:
Plenty of research shows that smartphones are addictive–eliciting some of the same addictive brain responses similar to alcohol, drug and gambling addiction.
Smartphones are an academic distraction, a concern to which, as a former classroom teacher, I can personally attest.
Smartphones impair sleep, with kids often waking in the middle of the night to check social media or text messages.
Smartphones are destructive to relationships, including parent-child relationships. Children grow inattentive because of the constant distraction of the smartphone.
Smartphones increase the risk of anxiety and depression, due to FOMO (Fear of Missing Out). They also expose your child to cyber bullying and sexting. The most common medium used for cyber bullying? You guessed it: the smartphone.
Still not convinced? Consider that executives who lead major tech companies, including Apple, Microsoft, Google and Yahoo, do not allow their own children to have smartphones until their kids are 14, and some even wait until they're 16 to give them data plans. As the Wait Until 8th website states, "Executives that flourish on the success of technology are protecting their children from the smartphone. Should we not do the same?"
In fact, just last week, Melinda Gates, the wife of Microsoft Founder Bill Gates, wrote about her own family's decision to delay smartphone use. In this article, she writes, "Phones and apps aren't good or bad by themselves, but for adolescents who don't yet have the emotional tools to navigate life's complications and confusions, they can exacerbate the difficulties of growing up."
It's important to note that the Wait Until 8th Pledge only applies to the smartphone. If you would like your child to have a basic phone that just calls and texts, you can still can sign the pledge. All the major carriers continue to offer basic cell phones that do not require data plans—you can check out the Wait Until 8th website for more information.
How do you feel about children and smartphones? I'd love to hear your opinions–sound off in the comments below!
If you'd like to become part of the movement and sign the pledge, visit waituntil8th.org. For news and updates, follow Wait Until 8th on Facebook and Pinterest.
Stay current: Follow One Committed Mama on Facebook, Twitter, Google+, Instagram and Pinterest!