October's One Successful Mama Profile: Mary DiMatteo, Precious + Posh
October 5, 2016|Posted in: One Successful Mama
"I didn't have to put my dreams of owning my own business on hold because I became a mom. I actually pursued my dreams because I became a mom." – Mary DiMatteo, Precious + Posh
Happy Fall! After a summer hiatus, I'm excited to introduce my newest One Successful Mama profile: Mary DiMatteo of Precious + Posh, a new Pittsburgh-area baby and children's boutique!
Located in quaint Oakmont, Pa., which is just outside of Pittsburgh, Precious + Posh carries modern and quality apparel and accessories for babies and children, newborn to size 7. The boutique's goal is combine the classic with the fresh and to offer some of the best items available. Many of the boutique's lines are exclusive to Precious + Posh.
Mary and her 19-month-old son Marco live near Pittsburgh.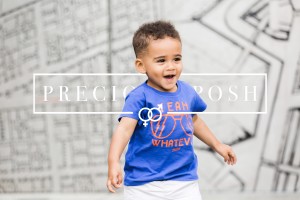 How long ago did you start your business? What led you to start it?
I started the business in May 2016 and opened doors on July 23rd! It was very quick and LOTS of work.
I really enjoy finding unique items for myself and family members, and that translated into what I wanted to find for my son. Things don't always have to cost a lot of money to be quality, either. In my search to find hip and quality clothing for my son, Marco, I found that I couldn't really – which lead me here! I like to shop locally – wherever I am – instead of the larger chains. I think the personal interaction in a smaller store is better. Also, I know when I shop locally, I am helping a family, neighbor, etc. My hope is to offer quality customer service and items at the same time.
Two people inspired this business: Marco & my dad. My dad is an incredible entrepreneur. He is generous, kind, and supportive of myself and everyone. He is my daily mentor, and absolutely none of this would possible without my parents.
What types of services/products do you offer?
First of all: our store is super child-friendly. Aisles are big enough for strollers, and I have a play space with toys for kids. We want our families to feel relaxed in here!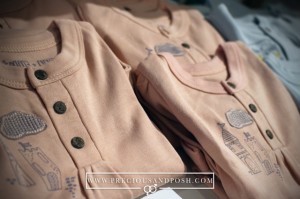 We mainly sell clothing items, but our accessories and baby gear lines are expanding. Right now, we have about 11 clothing lines ranging from newborn – size 7. We also sell 4moms products, Skip Hop, Little Giraffe, Freshly Picked shoes, and hair accessories. Some of our baby gear includes: blankets, swaddles, hats, hooded towels, diaper bags, bath time accessories, feeding accessories, and on-the-go convenience items for parents.
Because of the wide range of items we offer, we offer in-store baby registry. We walk around with the customer, help choose items, organize the registry, and make the overwhelming experience much simpler. Additionally, we allow mom-to-be's to even special order items they may want on their registry! We offer a 15% completion discount for items not purchased, as well!
We are also starting to carry baptism, christening, and Holy Communion apparel! Contact us for more information on that!
Describe your first few months getting started. What were your major challenges?
Honestly – being a mom while doing this was (and is) the toughest. I love my child fiercely, yet wanted to give my all into creating the best store and choosing the best items available. Marco spent a lot of time with me there over the summer, and I realized that I was putting a lot of pressure on myself that I didn't need to.
Also, I wanted to make sure that I was picking items that all or some people would like, not just me. That part is still challenging.
What has surprised you the most about yourself when it comes to running your own business?
Good question. I think the ability to always do more. I am still teaching full-time, I am a single mom, and I am running a business. I am not saying this to brag, but only to note the endless possibilities as a mom and woman. I didn't have to put my dreams of owning my own business on hold because I became a mom. I actually pursued my dreams because I became a mom. Marco is absolutely the inspiration behind all of this on so many levels. Motherhood is what made me realize what I am capable of.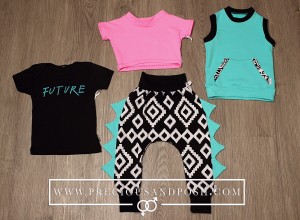 How has owning your own business benefitted your family?
I think so! Time will tell. But I know that Marco will be raised by a mother who encourages him to do whatever he wants to do, and that is never too late. That type of lesson is always beneficial.
What do you enjoy the most about owning your own business?
Everything. I love being responsible. It has taught me how to manage others, trust others, etc. But I like the responsibility that comes with deciding what is best for our business.
What are your goals for the future?
I would really like to see our online store become a success. Let's face it – as a new mom, I could barely find time to shower. I want people to be able to shop from the comfort of their own, midnight-feeding, home!
What advice do you have for women who may want to take the leap and own their own businesses?
DO IT. Even if you're scared. In fact, it should be a little scary.
I tell myself every day that failure isn't an option. I am constantly finding new ways of reinventing myself or the business. I have noticed more and more businesses owned by woman (young and older), mother, etc. I think we need to support each other and our goals.
Also, don't be afraid to ask for help. I have reached out and asked for advice countless times from not only other retailers, but all types of business owners. You'd be amazed how many people are eager to help or offer counsel.
PRECIOUS AND POSH
638 Allegheny River Boulevard, Oakmont, PA 15139.
412.794.8247

***SPECIAL OFFER!***
As a thank you to my readers, Mary is offering 20% off an in-store purchase, with the mention of this blog post. Certain exclusions apply. Offer ends October 31, 2016.
You can follow Precious + Post on Facebook and Instagram!
Stay connected! Follow One Committed Mama on Facebook, Twitter. Google+, Instagram and Pinterest!