My New Wardrobe Staple: Classic Red Flats from Rhea Footwear!
January 12, 2017|Posted in: Product Review
Who doesn't love a pair of shoes that's fun, fashionable and fit like a dream?
I'm self-confessed shoe addict, but since I've been working from home these past few years, my wardrobe mostly consists of basic yoga pants and T-shirts. My shoe-buying obsession has decreased exponentially, too. Yeah, I know. Booooring, right? Therefore, I was THRILLED when Rhea Footwear contacted me and asked me if I'd like to try out a pair of their super-cute non-slip shoes.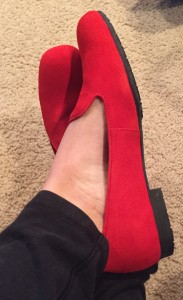 Um, yes, please!
I was able to choose a pair of flats or boots to try in any color. With all of the cute pairs to choose from, it was quite difficult to decide. I ultimately selected their Classic Flats in California Red ($119.99), simply because I don't wear heels very often anymore (lame, I know) and also because I own a lot of black, white and gray. I thought these shoes would be the perfect, eye-catching addition to my wardrobe.
Now, I'm no fashionista, but I squealed with excitement when my package arrived. These shoes are GORGEOUS. They have a silky suede upper that's stamped with the Rhea monograph and a soft, smooth leather trim. They're also engineered using Rhea's Grip-Tech outsole, which provides you with the maximum grip on all types of surfaces, even on ice and snow. Rhea's Grip-Tech soles are created with the same type of rubber used in space shuttles to endure extreme conditions.
I live in PA, and the weather gets nasty, and I can tell you—these shoes work. Even when our driveway was icy from a nasty winter storm, I didn't slip.
Check out this video to watch the NeverSlip Outsole in Action!
And they're comfortable. So, so comfortable. They feel like slippers, and they fit true-to-size. I ordered my typical size and they were a perfect fit. I wore them with a red sweater on Christmas Day and had them on all day, morning until night, and my feet never hurt. I never felt like I had to take them off to get relief (which I can't say for the majority of the shoes and boots I own).
I'm definitely a Rhea customer for life! Rhea sells slip-ons, boots and sandals for women and men. I'd love to see them expand their line to offer non-slip kids' shoes, too!
If you're interested in trying out Rhea Footwear's fun and functional nonslip shoes for yourself, they're offering my readers a 20% discount with the promo code "committedmama20." Happy shopping!
Disclaimer: I received these shoes for free from Rhea Footwear in exchange for an honest review on my blog. I selected the shoes myself. The opinions stated here are my own.
Follow One Committed Mama on Facebook, Twitter, Google+, Instagram and Pinterest!