Product Review: Dr. Mercola's Complete Probiotics
November 25, 2016|Posted in: Healthy Living, Product Review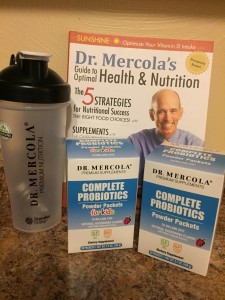 I received this product for free from Moms Meet May Media Group LLC, who received it directly from the manufacturer. As a Moms Meet blogger, I agree to use this product and post my honest opinion on my blog. The opinions posted are my own.
I first discovered probiotics a few years ago when I was dealing with digestive issues stemming from a thyroid disorder. My doctor—and a few friends who swear by them—suggested I try adding a probiotic to my diet. Since then, I've taken them on and off, especially if I'm not feeling well or not eating as healthy as I should be. (Thanksgiving dessert table, anyone?)
What the heck are probiotics, you ask? Well, probiotics work by restoring the balance of bacteria in your gut. They introduce billions—that's right, billions–of tiny beneficial microorganisms into your digestive tract. An estimated 80 percent of your immune system lives in your gut, so if your healthy gut bacteria is "off," it can make you feel sluggish, bloated, or generally unwell.
Since I've personally benefitted from using probiotics, I was excited to test out a new premium-quality brand: Dr. Mercola's Complete Probiotic Powder Packets for Adults. In just one serving, the packets provide 70 billion beneficial bacteria. We also had the opportunity to sample the Probiotic Powder Packets for Children. These packets contain 10 billion beneficial bacteria, which Dr. Mercola says is the optimal dose for most children.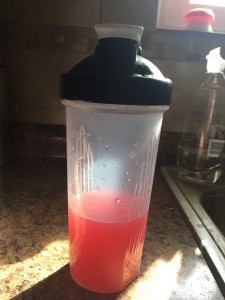 Dr. Mercola's Complete Probiotic Powder Packets contain 10 strains of bacteria, including super-strain lactobacillus acidophilus DDS-1. They're designed to promote an optimal environment for the growth of "gut-friendly" bacteria. 
They also provide support your immune system health*, aid in the breakdown and removal of harmful toxins*, and help support blood pressure levels that are already in the normal range.*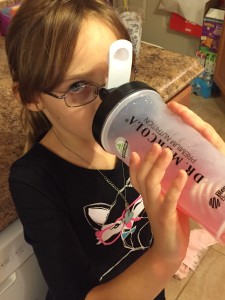 These packets come in a great, organic raspberry flavor, and are available in powder form. You can mix them with water or juice. I mixed mine with water, and my daughter's with organic juice, and she declared that it tasted like raspberry lemonade! Little did she know that the drink was "secretly healthy." I've been using the packets regularly, and have experienced no bloating or digestive upset whatsoever.
Dr. Mercola's Complete Probiotic Powder Packets are great for adults and kids who have difficulty swallowing pills. Because they don't require refrigeration, they're also convenient for travel.
I mixed up the packets in Dr. Mercola's super-useful Blender Cup that came with my review kit. It contains a sphere-shaped metal whisk that moves freely throughout the cup while you shake it. I used it to mix the Powder Packets as well as my protein shake, and it worked fabulously and would be awesome for when you're on the go. Since there are no batteries or cords, it's kid-friendly, too!
If you're looking for a high-quality probiotic to help you improve your overall wellbeing and digestive health—especially with the holiday season in full swing–give these packets a try by visiting Dr. Mercola's online store. One box of Complete Probiotics Packets for Adults (30 per box) retails for $41.97, and one box of Complete Probiotics Packets for Kids retails for $29.97.
Connect with Dr. Mercola's online to see their latest products and get exclusive access to discounts and special offers!
*This statement has not been evaluated by the Food and Drug Administration. This product is not intended to diagnose, treat, cure or prevent any disease.
Stay connected! Follow One Committed Mama on Facebook, Twitter, Google+, Instagram and Pinterest!