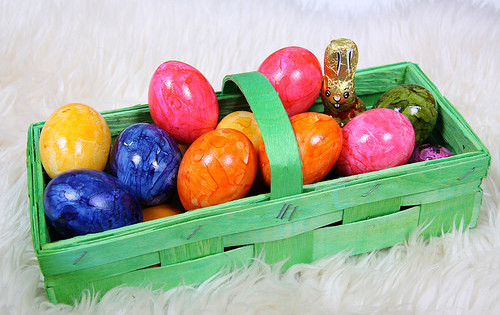 When Did Easter Turn Into Christmas?
April 1, 2015|Posted in: Holidays, Random Observations
Over the weekend, a friend who teaches elementary school told me that one of her students gave his parents a list of what he wanted for Easter.
I think I actually had her repeat that statement, because I couldn't believe what she had just said.
Store circulars from Wal-Mart, Target, and every other mass retailer are all blasting toy and gadget sales from their colorful, shiny pages.
Every store you walk into has aisles and aisles filled with "basket fillers" – loads of cheap junk that will likely get lost under the couch faster than you can say "entitled."
You want to know what filled my basket as a kid?
Jellybeans. Reese's Peanut Butter Cups. A chocolate cross. A book. Maybe a new outfit for my Barbie dolls, handmade by Mom. Maybe some bubbles or new crayons. And I was THRILLED about it. I could not WAIT to dig through those wads of shredded plastic grass, scooping out the lost jellybeans or chocolate eggs like they were buried treasure.
I did not "ask" for Easter gifts or "demand" that the overstuffed bunny brings me a new expensive gift. I knew that "asking" for gifts came only two times a year: once, on our birthdays, and then again for Christmas, where my brother and I sat at the dining room table with the JCPenney catalog and determinedly circled the toys we hoped Santa would bring.
Easter meant putting on our Sunday best, going to church, having a meal at my grandparents' house, and sneaking candy all day long.
With my daughter, we'll be putting on our Sunday best, going to church, having a meal with my relatives, and sneaking candy all day long.
Her basket will be filled with candy, a few small toys, books, and, of course, a chocolate cross.
Not an iPod, or a $60 life-sized talking Elsa doll.
Whether you're religious or spiritual or not, it seems to me that society has done gone mad. With each passing year, our holidays are becoming more commercialized and are losing the whole reason for the season. No matter what your views are on religion and humanity, Easter, to me, is not just about jellybeans and toys and waiting for the Bunny (although those things are both fun and nice). It's about resurrection, rebirth, renewal and spending time with the people you love.
Agree? Disagree? Sound off below and share your thoughts!
photo credit: Ostern_14_04_17-3 via photopin (license)
26 Comments