Nicole Shultz of Uglie Acres is One Successful Mama + GIVEAWAY
January 6, 2016|Posted in: One Successful Mama
"I think what I love the most is watching people's faces when they try a product for the first time. You just see the smile start at the eyes and go from there. It is one of the best feelings in the world to know someone likes your stuff that much." – Nicole Shultz, Uglie Acres
Happy New Year, dear readers!
I'm kicking off 2016 with my newest One Successful Mama: Nicole Shultz of Uglie Acres, a line of homemade, all-natural jams, jellies, fudge, coffee toffee, pretzel toffee and peanut brittle — with new flavors and products being added all the time!
Nicole lives on a small farm in Windsor, Pa. She's married to Levi and is mom to a beautiful daughter, Brittany, who just graduated from college with a bachelor's degree in nursing. She's also a mama to two fur babies: dog Daisy Mae and kitty Cleo (short for Cleopatra).
---
As a thank-you to my readers, Nicole is giving away a $15 gift card to Uglie Acres!
To enter, simply comment on this post and tell us what your favorite homemade sweet treat is!
The giveaway is now closed. Thanks to everyone who entered.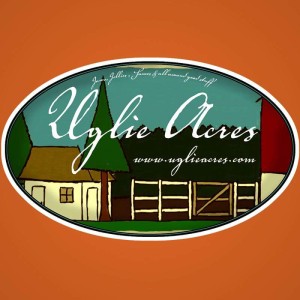 ---
INTRODUCING: NICOLE SHULTZ, UGLIE ACRES!
How long ago did you start your business? What led you to start it?
My business kind of started on its own, in a somewhat peculiar way. I'm sure at some point my husband knew that I had canned and made my own jams and jellies. But, I don't think that most of the time, while we were dating, I had canned. Too busy at my day job, I guess. However, he would talk about his grandmother and how he loved to sit there and eat her jelly bread while visiting as a child. It was such a fond memory for him, so when we would go out to farmers markets or apple fests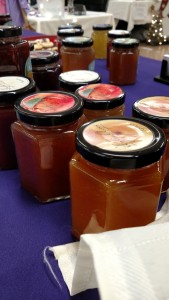 in the area, we would look for this jam. I told him that if he found the recipe or even knew what was in it, I could make it. He knew the color and the flavor but never knew what it was. One day, during casual conversation, his aunt said she had the recipe and I started making it: our pear jam. Friends loved it and I would give jars away when asked. Then, four years ago, (almost five) we bought the farm (literally). Being from a large family, we always had large gardens. My mom canned everything. I remember being little and getting a jar of pickles from under the steps. In the summer of 2011, the fruit started popping up. Apples on the trees, mulberries on the bushes. Neighbors with pears, others with blackberries. So, I got to "jamming." I would sell them here and there when people would ask and, it grew from there. I'm so happy it did.
What types of services/products does Uglie Acres offer?
We have 37 flavors of jams and jellies. I have six that you will not find anywhere else. We also have fudge (great grandma's recipe), pretzel toffee (my idea), coffee toffee (my husband's idea), and peanut brittle (my mom's recipe). We are currently looking at adding extracts and salsas to our lineup.
Describe your first few months getting started. What were your major challenges?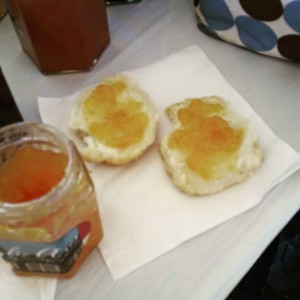 The first few months were hectic. I remember the first week of getting the product volume I thought we might need. It was a week of very late or sleepless nights — my kitchen was a nightmare. Searching online to find out what needed to be done to certify our kitchen, which turned into finding a kitchen to rent. Sending in samples of the jams for state-required testing. (That was a week of calling labs to see which ones do the testing that I needed to have done).
What has surprised you the most about yourself when it comes to running your own business?
I am most surprised about myself when I hear others say, "I use you as my role model when it comes to running my business. You are so passionate about what you do and love your product so much that it sells itself. If I'm the same way, my product should sell that way too." It's nice that others see my dedication and hard work to the one thing I love to do. Not to mention I love to feed people. Just ask anyone who has walked into my house while I was cooking and I say try this. Or open up and put something in their mouths!
How has owning your own business benefitted you as a mother and wife?
I get to make my own schedule. I love the freedom that owning your own business gives you. If I need a day off, I can take it. At one point, my daughter had to have some dental work done. She asked me to go along with her. It was going to be an hour or more long procedure. In my old job, I probably could have gotten the time off to be with her. However, owning my own business, it was guaranteed. When she called me at 2 a.m. that night in tears because she was in so much pain from the dental work, I could talk to her and help her through the night, not having to worry about what time I needed to be up in the morning. As a wife, my husband will be the first to tell you, I'm much happier. I don't have dark circles under my eyes from the stress or lack of sleep with my old job. I was also able to help another family member who was on bed rest during her second pregnancy. I flew out to their house for a week and made her enough freezer meals to last her at least 3 months. Not to mention, I got to know my niece better.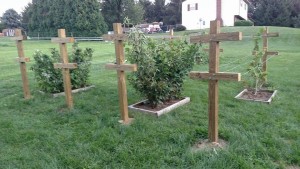 What do you enjoy the most about owning your own business?
I love to cook, and I love to create new things. So I get to do both with my business. Berry Banani, A-pinapapaya-wi-go, Fruit Cocktail, Uglie Orchard, Dirty Island Desire, and Ancho-typical Orange are proof of that! But, I think what I love the most is watching people's faces when they try a product for the first time. You just see the smile start at the eyes and go from there. It is one of the best feelings in the world to know someone likes your stuff that much. So much so, that my regular customers call themselves Uglie Junkies.
What are your goals for the future?
We have both short-term and long-term goals. In the short term, we are planning on adding more plants. I am expecting to put in 250 strawberry plants this year along with more fruit trees. We would also like to make our cookbooks and T-shirts available. Our long term goals include getting the garage upgraded and putting my industrial kitchen above it, and keeping the whole process here at the farm, saving both time and money. We are also hoping to get our products in more stores, slowly growing our customer base.
What advice do you have for women who may want to take the leap and own their own businesses?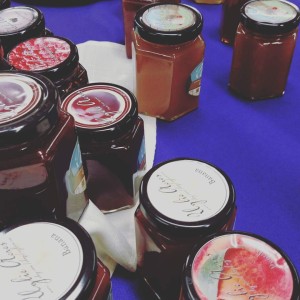 My biggest and best advice is just do it! As scary as it is, just do it. So many people are deterred by the fact that they don't know what steps to take. But guidelines and details seem to find you when you need them. However, whatever you choose to do, do it with something you love, something that you are passionate about. No matter how unique you may be, you still represent a certain percentage of the population. If you create a product that you enjoy yourself, you guarantee that at least a certain amount of people will enjoy as well. If you create a product that you wouldn't use, the only thing you guarantee is that there is a group of people out there who wouldn't use it, either.
Follow Uglie Acres on Facebook, Twitter and Instagram!
Follow One Committed Mama on Facebook, Twitter. Google+, Instagram and Pinterest!
And if you know a Successful Mama who deserves to be profiled, let me know!
UGLIE ACRES GIVEAWAY ANNOUNCEMENT!
Note: This giveaway is now closed. Thank you to everyone who entered!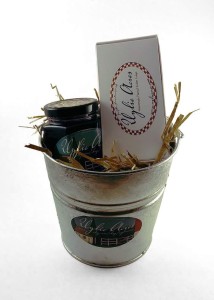 Win a $15 gift card to Uglie Acres!
To enter, simply comment below and tell us what your favorite homemade sweet treat is!
The winner will be notified by email on or about January 18.
Your email address will not be sold or used for any other purpose.
39 Comments