September's One Successful Mama Profile: Jen Wirsing, The Green Berry Juice Bar
September 9, 2015|Posted in: One Successful Mama
"Opening The Green Berry has reminded me that I can still have my own life and be my own person, while finding a balance of being a mom and a wife." – Jen Wirsing, Owner
This month I'm profiling Jen Wirsing, owner of The Green Berry, a unique hometown eatery serving cold pressed juices, smoothies and other seasonal specials located in Irwin, Pa. A native of the area, Jen lives in nearby North Huntingdon, Pa., with her 6-year-old daughter Adelle and husband Russ.
The Green Berry is the very first designated juice bar in the county, and all of its produce is sourced from local farmers or sustainable farms or is certified organic. "This is not just a business for me but a way to spread awareness and education on nutrition and health by teaching others how to juice, make smoothies and eat a diet full of nutritious real foods," she says. "The Green Berry is committed to only serving nutrient dense food to anyone who steps foot in the door!"
As a thank you to my readers, Jen is giving away a 1-day juice cleanse — a $47 value — for FREE!
The winner will receive 16-oz bottles of the following:
*2 Carrot Juices
*1 Homemade Almond Milk
*2 Unicorn Wings (apple, parsley, lemon, cucumber and spinach)
*1 Grasshopper (chard, spinach, apple, cucumber, and pineapple)
TO ENTER: simply leave a comment on this post telling us about a healthy food you've recently started incorporating into your diet or a favorite healthy food that you've been loving for quite a while!
INTRODUCING: JEN WIRSING, THE GREEN BERRY!
How long ago did you start your business? What led you to start it?
The ide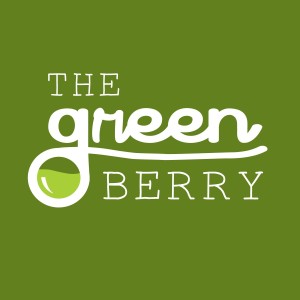 a started back in January of this year. My husband actually encouraged me to do something with all of this information that I have learned about health and nutrition. In 2011, I graduated from the Institute for Integrative Nutrition, which is based out of NYC, as a Board-Certified Holistic Health Coach (certification is through the American Association of Drugless Practitioners), but have been eating healthy and juicing since 2005.
I had driven by the space on 3rd Street in Downtown Irwin many times and thought it would be the perfect space to open a juice bar! Next thing I knew, my husband rented the space for me for Valentine's Day. He surprised me with the key on a heart shaped ring, along with the lease. I was VERY taken aback because now it was REAL and I HAD to follow through with it instead of procrastinating and it just being a thought in my mind. So, needless to say, I went through all kinds of emotions in about 10 seconds: fear, excitement, anxiety and sadness (yes sadness, because I knew I would be leaving life as I knew it as a stay-at -home mom.) But somehow I knew deep down this would be the best thing for me and my family in the long run. I knew that I wanted to do this for our community, too.
There was not a doubt in my mind that I wanted to open in Downtown Irwin, either. I had a lot of people asking me or encouraging me to open elsewhere, like Greensburg or Ligoner, but there was no way I was going outside of the Norwin area to do this. I was born and raised in Irwin, so this is exactly where I wanted to plant my business! Having something very unique like this — the first juice bar in Westmoreland County — I knew it would draw people into town from all over and I want to be a part of helping Downtown Irwin thrive and grow.
What types of services/products do you offer?
We offer fresh cold pressed juices (yes GREEN juices!), nutritious smoothies, cleansing programs, shots such as wheatgrass, turmeric, lemon and ginger shots, homemade almond milk in 4 different flavors: plain, vanilla, cinnamon and chocolate, homemade almond butter (not for purchase yet), seasonal items such as banana "ice cream" and essential oils. Nutritional counseling is also available along with a variety of upcoming classes, workshops, and field trips — the Girl Scouts are coming at the end of September for a field trip! Fall is quickly approaching and we have some very exciting menu items and seasonal specials that will be added to the menu such as pumpkin almond milk, pumpkin smoothie, soups, bone broths and some other yummy things!
Describe your first few months getting started. What were your major challenges?
I'd say one of our challenges was finding time to work in the store, remodeling and doing construction. My husband did all of the carpentry and remodeling, so he had to work at the store in his spare time, which was not much! Everything unfolded at exactly the perfect time, though, so although it took us 7 months to open our doors, it was the exact right time. Another BIG challenge was money! How was I supposed to start a business with nothing?! I knew it was going to happen, though. One way or another I'd find a way to raise the money and I certainly did just that through various fundraisers, crowd funding, family and friends. Before I knew it, I had raised enough money to open my doors! And trust me, I had some naysayers who told me, "Uou can't ask people for money to open a business – I've never heard of such a thing!" Well, anyone who knows me knows I'm certainly not a conventional thinker and I moved on right past those comments!
What has surprised you the most about yourself when it comes to running your own business?
My ability to work hard at something and show up for myself and others. It took me a long time and years of reading self-help books, taking self-improvement workshops, reading spiritual books amongst other things (and I'm surely not done in that department, either, as I am always aiming for self improvement and digging deep to be my most authentic self) to realize that I was meant to do what I love and to help serve others by living my life's purpose. It took years of questioning what exactly that was! But since I decided to do this, all of the doors have opened. As soon as I put the idea out there, I had someone offering to do all of my graphic design and marketing for no cost and donations were coming in from family and friends left and right. I have always read that when you are supposed to do something in life, everything falls into place. This was a HUGE aha! moment for me.
How has owning your own business benefitted you as a mother and wife?
As a mother, my daughter gets to see two of her parents own our own businesses. It brings me so much joy and gratification to be able to teach her how to run a business and especially a business where you are helping others to learn how to eat healthier and take care of themselves. It also has given me something to call my own and be proud of myself for. I've spent so much time over the last 6 years giving everything of myself to my daughter that I have not taken much time to figure out what still makes me happy. Opening Green Berry has reminded me that I can still have my own life and be my own person, while finding a balance of being a mom and a wife. My husband is happy to see me doing what I love and has been so supportive through all of this. He has even said he wanted to quit his job in construction and make smoothies with me all day.
What do you enjoy the most about owning your own business?
I love being able to make my own hours and work around some of my personal things that I need to take care of too without having to answer to anyone else. I also love that I don't even consider what I do "work" because I love it so much!
What are your goals for the future?
Having a delivery service, adding more items to the menu and possible opening other locations someday! I've learned that you can do whatever it is you dream of if you set your intention to doing just that.
What advice do you have for women who may want to take the leap and own their own businesses?
I always encourage anyone to do whatever it is that they love and makes them happy. There is always a way, especially if you feel you are supposed to do something more than working for the "machine" as I call it or more than working that 9-5 job that you despise. Most people walk around as part of the "drift" of society, just going about their everyday life that they think is just "ok" not realizing how much potential they have inside if they just let their light shine from within.
Follow The Green Berry on Facebook!
Follow One Committed Mama on Facebook, Twitter. Google+ and Instagram! And if you know a Successful Mama who deserves to be profiled, let me know!
TO ENTER THE CONTEST, simply leave a comment on this post telling us about a healthy food you've recently started adding to your diet or a favorite healthy food that you've been loving for quite a while! It's that simple! (Your email address will only be used to contact you if you win. It will not be shared or sold in any way.)
The contest ends at midnight on Friday, September 25. The winner will be randomly selected and announced on September 28. The winner will be notified by email. Good luck!
This contest has ended. Thank you to everyone who entered!
30 Comments