Review: National Geographic Kids Readers
March 10, 2017|Posted in: Children's Literature, Moms Meet, Product Review
Disclaimer: I received this product for free from Moms Meet (momsmeet.com), May Media Group LLC, who received it directly from the manufacturer. As a Moms Meet blogger, I agree to use this product and post my honest opinion on my blog. The opinions posted are my own.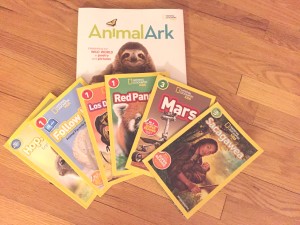 As a mom and a book lover, I'm always looking for ways to spark a love of reading in my little one—and that's why March is an awesome month. Not only is it National Reading Month, but it's also the month in which we celebrate Dr. Seuss' birthday and Read Across America Day (March 2).
I was first introduced to National Geographic Kids books a few months ago, when my daughter and I had the chance to review the NGK Book of Heroes and Book of Heroines, thanks to Moms Meet. I was extremely impressed with the quality of the content and photography in those books. Now that my daughter is in first grade and is reading independently, I was doubly excited to have the opportunity to review a set of National Geographic Kids Leveled Readers.
As the leader in nonfiction children's publishing, NGK developed this series with experts in literacy education who know that informational reading is critical to children's success in school and later in life. 
The readers are colorful, fun to read and available in four levels:
Pre-reader, which are just right for kids who are ready to read.
Level 1, which are perfect for kids who are beginning to read on their own. There also are Level 1 Co-readers, which are great for a shared reading experience between kids who are beginning to read on their own and an older reader or parent.
Level 2, which are great for children who can read independently and who are ready for longer sentences and more complex vocabulary.
Level 3, which are for fluent readers who are reading on their own with ease and who are ready for more challenging vocabulary.
The books are chock full of amazing color photos and facts and, since research shows that laughing can help kids learn, the pages are sprinkled with subject-related jokes and puns, like this one in the Level 1 book about Red Pandas: "What does a ghost say to a red panda?" Answer: "Bam-boo!" (You're welcome.)
In addition to the leveled readers, we had the chance to read through "Animal Ark," a stunning picture book which pairs the photography of National Geographic photographer Joel Sartore with the poetry of Newbery award-winning author Kwame Alexander. The book features more than 40 breathtaking animal portraits and invites kids (and, let's face it, grownups, too) to explore each creature in exquisite detail. We also signed up for and have been exploring the free National Geographic Kids Super Readers Program, where kids can download free posters, sticker sheets and other prizes and activities as they chart their reading accomplishments!
My daughter and I truly enjoyed reading through these books, and I learned interesting facts about Mars and Sacagawea right along with her. In fact, when my daughter had to choose a favorite book to take to school during her school's Dr. Seuss Week, she took the NGK "Red Pandas" book, declaring it her "new favorite book." We'll certainly be exploring additional titles in the NGK library!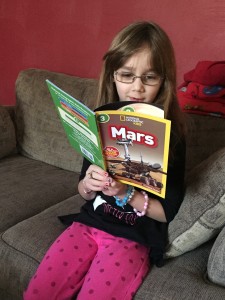 Connect with National Geographic Kids on Facebook, Twitter, Pinterest and Instagram to see their latest products and special offers!
Follow One Committed Mama on Facebook, Twitter, Google+, Instagram and Pinterest!