Review: Green Chef Organic Meal-Kit Delivery Service + SPECIAL OFFER
February 28, 2017|Posted in: Moms Meet, Product Review
Disclaimer: I received this product for free from Moms Meet (momsmeet.com), May Media Group LLC, who received it directly from the manufacturer. As a Moms Meet blogger, I agree to use this product and post my honest opinion on my blog. The opinions posted are my own.
I have a confession: I love to cook, but I hate to grocery shop. For me, grocery shopping is an evil necessity, but not one that I typically enjoy…unless I'm at Target. Or Costco. Or Trader Joe's. But I digress.
So, when Moms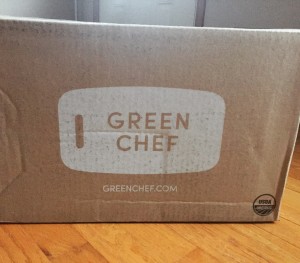 Meet provided an opportunity to test the Green Chef organic meal-kit delivery service, I said HECK YES. Fresh organic ingredients delivered to my door? Already pre-measured, somewhat prepped and ready for cooking? Yes, yes, and yes.
I've never ordered from a meal-kit delivery service before, so I was intrigued. First, I was curious: If they're shipping fresh meats or other perishable items, how do they ensure that it will stay cold?
I shouldn't have worried, because when the box arrived, i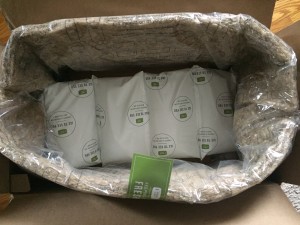 t was packed in a unique way, with jute insulation and non-toxic gel-filled ice packs. The insulation is 100% plant-based and made of 85% recycled materials. (Jute is a rapidly renewable plant material sourced from recycled burlap bags.) The gel packs can be refrozen and reused, or drained and recycled. Even before I cooked a single Green Chef meal, I appreciated the fact the company takes sustainability seriously.
For my sample delivery, I was able to choose from two different plans: either the 2-person plan, which includes 3 dinners a week, or the Family Plan, which includes 2 dinners a week that serves a family of 4 and appeals to both adults and children. I selected the Family Plan. I then had to choose between the Omnivore plan, which inclu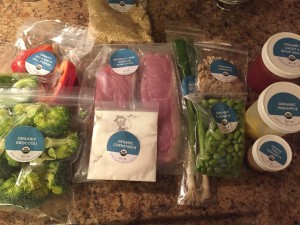 des meat, vegetarian or seafood dinners, or the Carnivore plan, which includes a land or sea protein plus veggies. I chose the Carnivore plan. (The 2-Person Plan also includes Gluten-Free, Vegetarian, Paleo and Vegan options.)
All of the meals include USDA-certified ingredients from carefully chosen suppliers. This means their meals contain NO pesticides, GMOs, or artificial ingredients. Their sauces and marinades are homemade, and the recipes are designed to be ready in around 30-45 minutes
Two tasty and chef-crafted recipes came in our kit: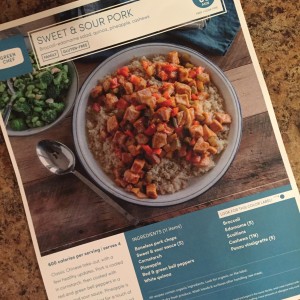 One for sweet & sour pork with a broccoli-edamame salad, and the other for chicken cassoulet with a kale-radish salad. I was pretty thrilled, because I went into this sampling program not knowing what types of recipes we'd receive, and our little one can be PICKY. Green Chef must have read my mind, because I love to cook homemade Chinese food, and she loves to eat it.
All of the ingredients in the kit were separated into smaller containers and color-coded by recipe. While the recipes were relatively straightforward and easy to prepare, you do have to have decent cooking skills to prepare them. Each recipe had multiple steps, but required minimal prep–the pork had to be cut into bite-size pieces, and the veggies had to be washed, for example– but I loved not having to worry about measuring (or shopping for) the ingredients. The pork dish was quick and easy to prepare, but the cassoulet took around 45 minutes, as it was a bit more involved. My daughter had fun helping out with the preparation, too.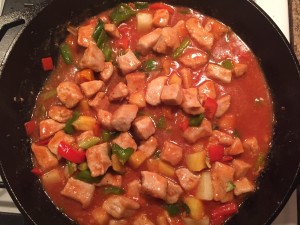 The finished meals were quite delicious, and my husband commented on how "light" he felt after eating them. My daughter liked the pork and the chicken, but did not like the kale-radish or broccoli-edamame salads (she stated that they were "weird," but then again, this is coming from a 7-year-old who dips raw carrots in ketchup).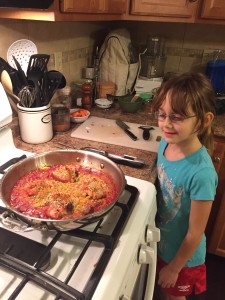 Green Chef's 2-Person Plan starts at around $10.49 per meal, and the Family Plan Starts at around $11.99 per meal. I'd actually like to see the pricing clarified per plan, instead of per meal, to make it less confusing. There's also a $9 per box shipping fee. Still, the cost is comparable to what you'd pay at a sit-down restaurant, and it's nice to know that you're cooking from scratch with organic, sustainable ingredients. Once you sign up, there is no minimum commitment, and you can skip a week any time you wish, as long as it's before your weekly order's cut-off time.
SPECIAL DISCOUNT OFFER! SAVE $50!
Want to try this service for your family? Green Chef has provided me with a generous discount offer for my readers! Sign up using this unique link and receive $50 off of your first order!
CLICK HERE TO SIGN UP & PLACE YOUR FIRST ORDER!
Connect with Green Chef on Facebook, Twitter, Instagram and Pinterest!
Follow One Committed Mama on Facebook, Twitter, Google+, Instagram and Pinterest!