Product Review: Perfect Bar Nutrition Bars
September 19, 2017|Posted in: Uncategorized
Disclaimer: I received this product for free from Moms Meet (momsmeet.com) to use and post my honest opinions. Compensation for this post was provided and this page may contain affiliate links.
Nutrition bars are a popular staple in our busy household, so I was excited when Moms M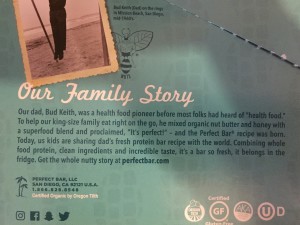 eet provided the opportunity to sample Perfect Bars, which are deemed "the freshest nutrition bars ever created."
Perfect Bar is a family company in every sense of the word. Founded in the kitchen of Bud Keith, the company is now run by the eldest of Keith's 13 (yes, 13!) children, who turned their father's recipe into a
flourishing business. The business was founded on the premise that food should be real, natural, and free of chemical preservatives, and I wholeheartedly agree. The products are non-GMO, kosher, gluten- and soy-free, and including a mix of more than 20 healthy fruits, vegetables, seeds and oils in each bar.
In my kit, I received a generous sampling of Perfect Bar products to try, including Peanut Butter Mini and Almond Butter Mini bars, as well as Peanut Butter, Blueberry Cashew and Coconut Peanut Butter full-size bars. Because they're made without preservatives, they're best kept in the fridge for long-term storage, although they'll last a week outside of refrigeration, which makes them perfect for "on the go" snacking or as a meal replacement.

The Peanut Butter bars are made with organic peanut butter and a slew of superfoods, including dried whole food powders like kale, flax seed, tomato, apple, alfalfa, celery, kelp and spinach. The Blueberry Cashew bars are created with a mix of cashew and almond butters, and are bursting with dried blueberries. The Coconut Peanut Butter Bars include organic peanut butter, organic coconut, organic coconut oil, as well as the superfood powders.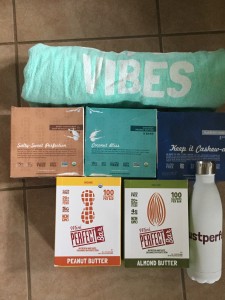 The full-size bars are calorie-dense, for sure: They weigh in at around 300+ calories with around 13-15 grams of whole food protein (no whey or soy!) and will keep you full for hours. At only 100 calories each, the minis are perfect for snacking as healthy way to "take the edge off" before lunch or dinner.
They taste delicious–the Peanut Butter bars practically taste like you're eating a jar of peanut butter with a spoon–but since they're kept in a fridge, the texture can be a bit tough. I found that if you eat them right out of the fridge, they're hard to bite into. (My little one, with her wiggly front teeth, had trouble biting into them!) Letting them sit out for 5-10 minutes (if you can wait that long!) makes them easier to chew. For some reason, the mini bars also have a drier texture than the full-size bars, so you'll want to have a glass of water on hand while snacking.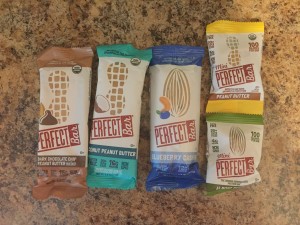 While they're made with a natural sweetener (organic honey is the only binder), they're very sweet—almost too sweet. The full-size bars have between 13-19 grams of sugar, which is practically the daily consumption limit for women recommended by the American Heart Association. The minis, on the other hand, have only 5-6 grams of sugar, which is much more agreeable if you're watching your sugar intake. Even though honey is a much healthier sweetener than refined white sugar, sugar is still sugar, so I would love to see the company tinker with the recipe to try to reduce the amount of added sugar in these bars.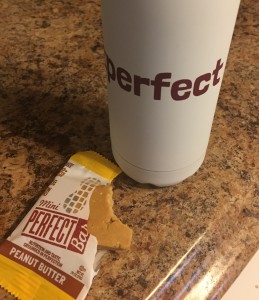 One other ingredient I was dismayed to find was the use of nonfat dry milk in these bars. I try to limit dairy because it gives me tummy troubles, and I've found that many people who limit gluten, soy and sugar also try to limit their dairy intake, so I'm befuddled as to why milk is an ingredient. As tasty as they are, I couldn't make them a daily staple in my diet long-term because of the added milk. Again, it would be great if the company could tweak the recipe to create a dairy-free version.
Overall, these bars would be a nutritious option to have on hand for when we're "out and about"—for instance, we took a few along on a recent family bike ride and they gave us enough energy to get through our ride without having to stop for lunch until we got home.
Perfect Bars are available in more than 12,000 fridges nationwide, although Minis are only available online at PerfectBar.com or in select retailers. The Perfect Bar Minis cost $1.30 each, and the full-size Perfect Bar, $2.99. 
To find a store near you, visit: perfectbar.com/where-to-buy.
You can follow Perfect Bar online on Facebook, Twitter, Pinterest and Instagram.
Stay current: Follow One Committed Mama on Facebook, Twitter, Google+, Instagram and Pinterest!