Product Review: Once Again Nut Butters
March 18, 2017|Posted in: Healthy Living, Product Review
Disclaimer: I received this product for free from Moms Meet (momsmeet.com), May Media Group LLC, who received it directly from the manufacturer. As a Moms Meet blogger, I agree to use this product and post my honest opinion on my blog. The opinions posted are my own.
We are nut butter fanatics in this house. We probably chow our way through 35,000 jars of peanut & almond butters per year. Ok, I'm exaggerating a little, but it seems as if I'm cracking open a new jar of peanut butter every few day. We use it in smoothies, in cookie recipes and, of course, on good-old PB & J sammies.
When it comes to processed foods, we try to stick to the fewer-the-ingredients-the-better rule, so we try to buy nut butters that are as natural as possible and not full of added sugars and fats. I specifically look for peanut butters that are made with just peanut butter and maybe a little bit of salt. (Many "popular" peanut butters, for instance, contain unnecessary fillers like molasses, hydrogenated oils, mono diglycerides, and extra salt–check your labels!)
I was pretty excited, therefore, when I had the chance to sample a collection of Once Again Nut Butters.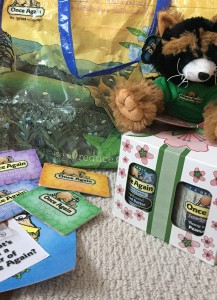 Once Again is an employee-owned business from upstate New York. They've been manufacturing all of their own nut butters, seed butters and honeys since 1976. Their award-winning butters are certified gluten-free and non-GMO, and are organic, vegan, and kosher. Yum!
My sample kit included four butters to try:
Once Again Peanut Butter, which is made ONLY with organic peanuts that are dry roasted and milled. Nothing else. Just peanuts.
Once Again Almond Butter, which uses ONLY dry-roasted organic almonds.
Once Again Cashew Butter, which uses organically grown cashews to create a super-creamy organic cashew butter. Expeller-pressed organic sunflower oil is added to enhance the spreadability.
Once Again Sunflower Seed Butter, which is made by roasting organically grown sunflower seeds. The seeds are milled smooth, and sugar and salt are added to create a delicious sunflower seed butter.
The peanut butter was h-e-a-v-e-n. It was so fresh tasting and ridiculously easy to spread, even on super-soft bread. After tasting it, my little one, who considers herself a connoisseur of peanut butter, subsequently only wanted peanut butter from the "jar with the raccoon on it."
Because the peanut butter is natural, it did require an initial stir to mix up the oil—if you eat natural peanut butters a lot, you know this can be a process. However, after the initial stir, I popped it in the fridge and they never needed stirring again. (I also use my handy-dandy peanut butter mixer, which makes the job SUPER easy.)
The almond butter was a great sidekick to sliced apples or celery, and I used the sunflower butter—which I had never tried before—to make a Trail Mix Cookie recipe, courtesy of a Once Again recipe booklet. The cookies, which don't require any processed sugar, were moist and delicious. The entire batch probably lasted 2 days. You can get the recipe by clicking here.
Once Again Nut Butters will likely become a pantry staple in our house. Want to try them for yourself? You can order online or use their store locator to find a retail location near you.
Connect with the Once Again Nut Butters on Facebook, Twitter, Pinterest and Instagram.
You can follow One Committed Mama on Facebook, Twitter, Google+, Instagram and Pinterest!
This post may also include affiliate links.
1 Comment