Product Review: Merry Bites #HailMerry #MomsMeet
June 17, 2016|Posted in: Healthy Living, Moms Meet
Disclaimer: I received this product for free from Moms Meet, May Media Group LLC, who received it directly from the manufacturer. As a Moms Meet blogger, I agreed to use this product and post my honest opinion on my blog. The opinions posted are my own.
If your kids are anything like my daughter, they probably love sweet treats—and ask for them often. As a parent, I often struggle to find tasty, good-for-you treats that aren't full of artificial ingredients with unpronounceable names. That's why I was so excited to be asked to try Merry Bites from Hail Merry!
Merry Bites are delicious, award-winning snacks made with Certified C.L.E.A.N. ingredients and healthy fats, including energizing organic virgin coconut oil and sweet almond flour. (C.L.E.A.N. certification is THE international standard in raw food certification.) These products contain no soy, partially hydrogenated oils, high fructose corn syrups or scary ingredients like butylated hydroxyanisole, nor do they contain highly refined sugars or flours.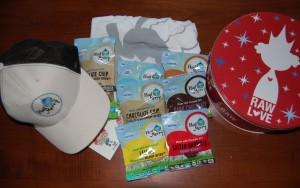 Hail Merry was founded by Susan O'Brien, a mom of three boys who fell in love with the raw foods lifestyle while living on the island of Maui. Working out of her kitchen at first, she quickly gained a following for her clean, healthy snacks. According to the company's website, the name Hail Merry represents purity, and the Hail Merry Queen featured on all of the company's packaging highlights the power that the female holds within to nurture and express love.
Our Merry Bites came in a cute red tin, along with a baseball cap and super-soft T-shirt. My kiddo couldn't wait to dig in. ("Is that CHOCOLATE?" she squealed as we opened the tin.) Our Bites came in six decadent flavors, including Chocolate Chip Cookie Dough, Caramel Sea Salt, Salted Brownie, Pure Vanilla Macaroon, Lemon Macaroon, and Dark Chocolate Macaroon.
Did I mention that these little two-bite nuggets of goodness are delicious? Because they are. I'm pretty much addicted to salted-chocolate anything, so we opened the Salted Brownie and Dark Chocolate Macaroon ones first.
OMG. So good. So addictive.
The Chocolate Chip Cookie Dough Bites were my daughter's favorite because, well, Cookie Dough.
At first, it's hard to believe that these treats are sweetened only with organic maple syrup and organic coconut sugar. How could something so decadent and rich actually be guilt-free and good for you?
Yet, it's true: Merry Bites are the polar opposite of highly processed low-fat or fat-free cookies, because they are made with healthy plant-based fats that balance your total carb load. THIS is the miracle behind their yummy snacks and desserts. Morever, Hail Merry's unique process of dehydrating Merry Bites at low temperatures protects the delicate raw fats in the coconut oil, which helps maintain freshness and leaves the dough super moist and satisfying. These cookies are FRESH, unlike typical shelf-stable packaged cookies. You keep them in the fridge and let them come to room temperature for a few minutes so that they'll melt in your mouth. One serving is two bites…but it's hard to stop after just two!
And the best part? In addition to being Certified C.L.E.A.N., Merry Bites are also Certified Gluten- Free, Certified Vegan, Certified Kosher, dairy-free, grain-free, peanut-free, Paleo-Friendly and Non-GMO Verified.
One note of caution: All Hail Merry products contain nuts, so you should make sure that ALL parents and children are asked about nut allergies before they eat these snacks!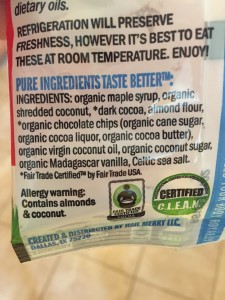 If you're looking for a healthy, on-to-go treat that will satisfy your family's sweet tooth, you'll want to give Hail Merry a try. I'm looking forward to trying the Miracle Tarts and Mini Miracle Tarts, made with almond flour shortbread cookie crusts that are filled with coconut oil-based ganache in a variety of flavors like Chocolate Almond Butter, Meyer Lemon and Coconut Vanilla Creme. YUM!
Merry Bites typically retail for $3.99 for a 3.5 oz. bag, and you can find these fresh-tasting snacks in your grocer's refrigerated section.
To find a retailer near you, visit hailmerry.com/where-to-buy. Want to request Hail Merry in your local store? Visit hailmerry.com/where-to-buy/ and download the form to bring into your retailer.