Pittsburgh Families Need Diapers – and Your Help
February 14, 2015|Posted in: Giving Back, Parenting, Saving Money
If you've ever had to pay for a box of disposable diapers, I don't need to tell you that they're expensive. According to the Wall Street Journal, diapering a child just six times a day costs about $1,500 a year.
But here's the thing: Most newborn infants require about 12 diaper changes a day.
Toddlers, about eight.
Now imagine if you could only afford ONE diaper per day for your baby. Instead of tossing that dirty nappy in the trash, you empty out the poo and put it back on your baby.
Try again to wrap your head around that for a second.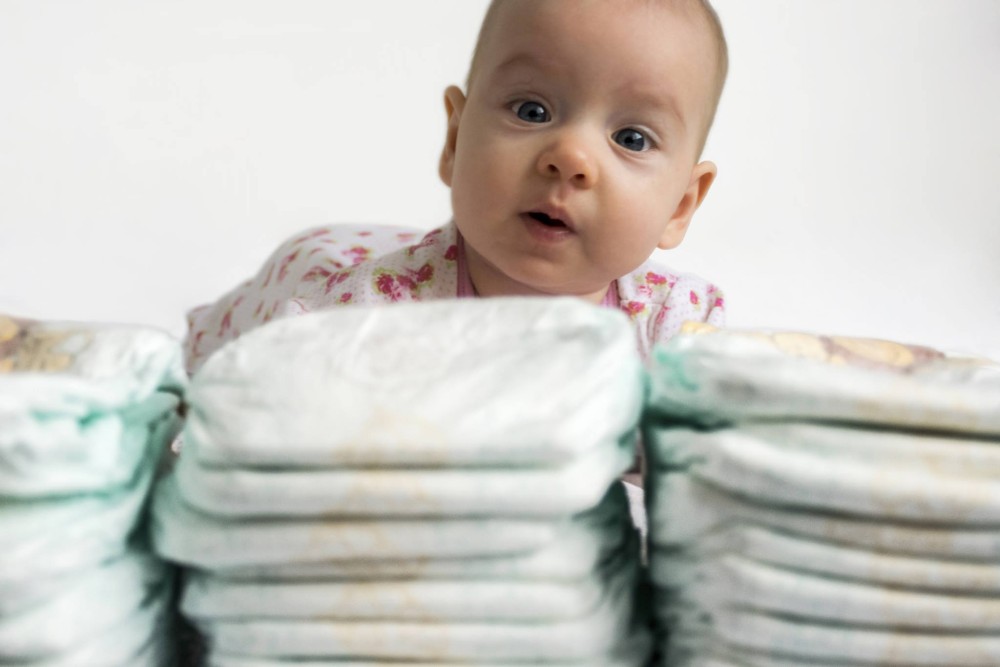 As a mom, I've seen my fair share of diaper explosions. You know – the kind where the poo somehow manages to not only ooze through the back of the onesie and onto your babe's legs, but also up onto the wall, and even onto the stuffed bear in the corner of the crib.
What if you were dealing with a diaper blowout – and the thought of having to use ONE EXTRA DIAPER that day caused you stress? One. Extra. Diaper. One.
Imagine having to choose between buying diapers or buying food for your family.
People, this ain't no joke. One in three families in this country struggles to buy diapers.
And moreover, parents can't use government assistance programs like WIC or food stamps to purchase them. They're classified as "disallowed" — in the same category as cigarettes, alcohol and pet food.
Most childcare centers – even the free and subsidized ones – require parents to provide a day's supply of disposable diapers. Cloth diapers are not allowed at most childcare centers. And guess what? If you can't afford to pay for diapers at your child's daycare center, then you can't go to work. If you can't go to work, then you can't afford to buy diapers. It's a vicious cycle, and one that many families are caught up in.
And don't even g
et me started on the health risks. According to the medical journal Pediatrics, keeping a baby in a soiled diaper too long can lead to painful skin rashes, scarring and even infections that can lead to kidney damage and poor growth – not to mention the devastating psychological and developmental effects that sitting around in a wet, smelly diaper all day can have on a baby or toddler.
This is why WE NEED YOUR HELP. If you live in the Pittsburgh region, PLEASE consider giving back to your community by supporting the Burgh Baby Diaper Drive, which is a partnership between The Western Pennsylvania Diaper Bank, the Greater Pittsburgh Community Food Bank and the awesome blog Diary of a First Time Mom.
Here's how you can help:
*Stay in your pajamas, grab a cup of java, and log onto The Western Pennsyvlania Diaper Bank website, where you can donate as little as $10.
*Purchase a a box or two of diapers and take them to a local drop-off location. To find a drop-off location near you, click here: The Western Pennsylvania Diaper Bank.  All sizes are being collected, but there is a higher demand for larger sizes (3, 4, 5).
*Collect diapers or the funds to purchase them at your workplace or church, or make a group donation from your friends, colleagues or family members. If you collect a large amount, a pickup can be arranged. Email drive coordinator Heather Hopson at dearmomdiary@gmail.com for more information.
And please help up spread the word by sharing this post on all of your social media accounts, using the #BurghBaby hashtag.
Thank you, dear readers, for your generosity and support, and for helping families in need. You rock.
Getty images courtesy of DiaryofaFirstTimeMom.com.
2 Comments