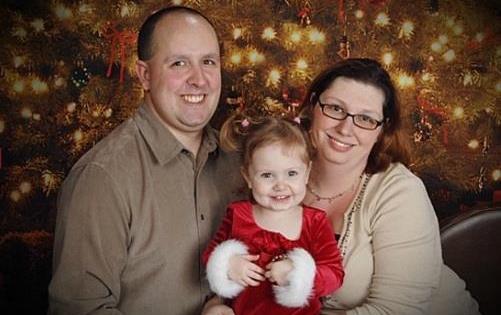 October's One Successful Mama Profile: Mandie Spudich
October 21, 2014|Posted in: One Successful Mama
"I just love the freedom to know that I can do things on my own terms." – Mandie Spudich, Founder, M & Em Designs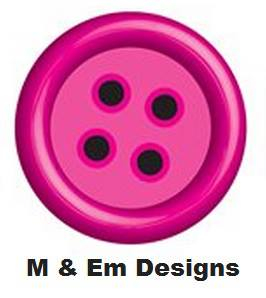 This month, I'm profiling Mandie Spudich, a successful and extraordinarily creative mama who is the founder of M & EM Designs, a handmade clothing and home decor business. Mandie is the mama of a beautiful little girl who's almost five, and she recently celebrated her 10th anniversary with her husband, Jamie.
WIN A $15 STORE CREDIT TO M&EM DESIGNS!
Mandie is giving away a $15 M & Em store credit to one lucky reader. Read through to the end of the post for instructions on how to enter!
The $15 credit can be used towards any M & Em purchase. You can choose from baby and children's clothing, adult clothing,  household items, toys, travel activities and a whole lot more! Not local? No problem! Mandie can ship domestically AND internationally — so be sure to enter the contest below!
ONE COMMITTED MAMA PRESENTS: MANDIE SPUDICH of M & EM DESIGNS
Describe Your Business:
I make all handmade clothing, accessories, jewelry, and other household/home decor items. Basically, if it can be made of fabric or is sparkly, I'm in!
How long ago did you start M & Em Designs? What made you decide to start it?
While my husband is a wonderful and very hands-on dad when he is home, he is a truck driver and with that comes certain challenges. For all intents and purposes, I live and plan our lives as though I were a single mother.
In my pre-baby life, I was a realtor. I worked long hours, late nights, weekends, holidays…there was never a time I was "off the clock." Even on the day I went into labor, I was supposed to be at a closing with my client. There were contracts to finalize, final HUD statements to review, amend and approve, and the final walk through to perform — and there I was, in labor, a full month ahead of schedule! So between contractions and laying in my hospital bed with my laptop and cellphone in hand, I was making phone calls forwarding information, sending emails and texts to ensure that everyone involved knew what was happening, and that there would be someone there to guide my client through the process.
When Em was small and still in her carrier seat, I would take her along with me on appointments and meetings without so much as a second thought, since she was always such a calm, well-behaved baby. When she started to become more and more mobile, all of that started to change. It became less and less feasible and I started relying more heavily on my fantastic mother-in-law to babysit. It wasn't long before I began to feel the strain, so when Em was about 2 years old, I decided it was time to give it up. I became a stay-at-home mom and decided that since I had time to do it now, I would pull out that old sewing machine that I had gotten as a wedding gift many years before and taught myself how to sew. I started selling my items casually in February of 2012 and took the leap in July of that year to launch my official Facebook Page. I began selling on a larger scale and my baby and my business has just grown and grown from there!
What does the name represent?
M & Em Designs represents my daughter's great influence on what I do: M (for Mandie) & Em (for Emily). Em has always had a great interest in helping to pick out fabrics, patterns, and styles, and the older she gets, the more she helps in the design process and even the making of the items in our shop. At age 4, we began with basic sewing lessons and she has even made a few (very simple) skirts for her 18" doll, Chloe!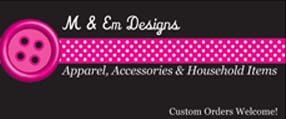 Where do you sell your products?
I sell primarily on my official Facebook Page and at local craft shows. Over the years, I have given Etsy and Artfire a try, but found that the fees were causing me to raise my prices and I just didn't like that at all!
Describe your first few months getting started. What were your major challenges?
In the very early days, because I was entirely self-taught, I just didn't have the confidence in my own ability that I should have. I WAY undervalued my items and most times would break even and even at times take a loss because I didn't feel I was worth it.  It took a good friend to give me a reality check and convince me that my time and efforts should not go unrewarded.
What surprised you the most about yourself and your business?
Honestly, If you had told me 10 years ago that this is where I would be today, I would have laughed you out of the room! I couldn't even hem my curtains back then! But it just goes to show that you never know what roads life will lead you down.
How has owning your own business benefited you as a mother and wife?
Being able to do something I love, that my daughter is excited about, and that I can do from home with no need for a sitter (or even real pants — haha!) has made it so much easier to work around my family's crazy life! I tried to take a part-time job a short while back and just felt like I was always failing my family. I was being scheduled (despite requests being placed well in advance) to work during dance recitals, little friends' birthday parties, and even on my own child's birthday! Finally, I said enough is enough. My child needed me far more than they did!
What do you enjoy the most about owning your own business?
I just love the freedom to know that I can do things on my own terms and have the ability to bend and change with whatever life throws my way.
What are your goals for the future?
I have no idea where the future will take us, but wherever it is, I know one thing for sure: My family will always be at the center of whatever it is I am doing!
What advice do you have for women who may want to take the leap and own their own businesses?
There will never be an "perfect time" or even a "good time" to do it — you just have to trust in yourself, hold your breath, and take the leap. Just be sure you have the love and support system in place to see you through the tough times and not just to be there while you celebrate the successes.
Is there anything else you'd like tell our readers?
Never underestimate your own value in the world. Just because you don't have a fancy office or wear a suit daily, that does not mean you are just playing around with a hobby. You will hear it everywhere, even from friends and family, who don't realize how hurtful it is. If you value yourself, then the rest of the world will see the value in as well.
HOW TO ENTER THE GIVEAWAY!

Click on the following link:  A One Committed Mama Giveaway!
or visit the One Committed Mama Facebook Page!
Want an extra entry? Leave a comment below, answering the question: What types of arts and crafts do you like to  do with your little ones?
5 Comments