#Nutrexin Product Review + GIVEAWAY! #MomsMeet
October 3, 2015|Posted in: Healthy Living, Moms Meet
Disclaimer: I received this product for free from the sponsor of the Moms Meet program, May Media Group LLC, who received it directly from the manufacturer. As a Moms Meet blogger, I agree to use this product and post my opinion on my blog. My opinions do not necessarily reflect the opinions of May Media Group LLC or the manufacturer of this product.
As some of my readers know, after my thyroid cancer diagnosis in February, I began to make a concerted effort to replace our family's standard health and beauty products with more natural ones, especially after learning that some of the chemical ingredients found in typical drugstore products can disrupt the endocrine system and lead to a host of health issues.
Therefore, I was excited to learn that Moms Meet was offering its Blogger Ambassadors the opportunity to try Nutrexin Alum-Free Roll-On Deodorant.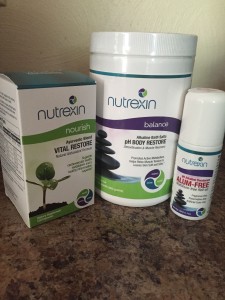 The Nutrexin product line was born from Nature's First Apothecary, Switzerland's leading provider of natural medicines. Their team of health care professionals has more 90 years of experience working with homeopathic remedies, herbal formulas and body care products. Nutrexin has been a best-selling brand in Europe for close to 10 years and is being newly released in the U.S. marketplace this year.
Nutrexin's Alum-Free Roll-On Deodorant contains no aluminum, fragrances, preservatives or artificial colors. Instead, the deodorant uses sage, witch hazel and other plant extracts to provide beneficial anti-microbial effects and to protect against the emergence of bacterial flora, which is the primary cause of stinky sweat.

(Sweat is naturally odorless, but when it reaches the skin's surface, bacteria that normally live on the skin digest sweat and excrete the strong-smelling waste associated with stanky sweat.)
I have been using this deodorant exclusively for about two solid weeks now and I must say: I. Love. It. It actually feels cool going on – since it's a roll-on, it goes on wet, but it dries very quickly and leaves not a trace of residue.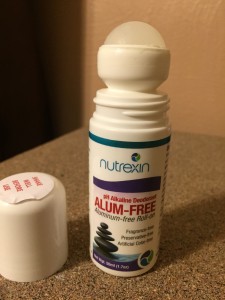 Once I started using it, I would do periodic "sniff tests" to see if the deodorant had broken down. I found it to be as effective, if not more effective, than drugstore brands. For an all-natural deodorant, it held up relatively well after a sweat session at the gym, and on non-gym days, one application per day was all that was needed. At $9.99 for a 1.7-ounce bottle, it's pricier than most "typical" deodorants, but I'm willing to pay extra for a product that is chemical-free and still effective.
Also included in my review kit was a 1.98-lb container of Nutrexin Balance Alkaline Bath Salts (retail $43.99), as well as a bottle of Nourish Vital Restore Complete Herbal Complex (retail $32.99). I used the bath salts a few times to soak my feet and it was fabulous! The salts left my skin and my tired, achy feet feeling silky, smooth and refreshed.
I have not yet tried the herbal complex. Although its ingredients are 100% natural, I need to talk to my doctor to be sure none of the herbs or plant extracts will counteract with the thyroid medicines I'm taking.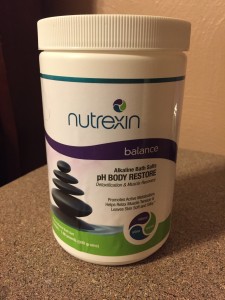 Overall, I was thrilled to be given the opportunity to try these products, and I think you would love them, too. To learn more about Nutrexin or to make a purchase, visit nutrexinusa.com, where you can also gain exclusive access to discounts and special offers!
DISCOUNT CODE: Use promo code MOMS1015 for 20% off and free shipping!
GIVEAWAY ALERT!
As a thank you to my readers, I'm giving away a FREE Nutrexin Alum-Free Deodorant, which you can enter using the form below. GOOD LUCK! And don't forget to connect with Nutrexin on Facebook and Twitter, too!
Nutrexin Alum-Free Roll-On Deodorant Giveaway!