November's One Successful Mama Profile: Cora Lee Cupcakes!
November 20, 2014|Posted in: One Successful Mama
"Kids should be filled with love and laughter, not all of the worries that adults have. We try to remember that."
-Courtney Kobelenske & Kylie Lash, Cora Lee Cupcakes                      
This month, I'm profiling sisters Courtney Kobelenske & Kylie Lash, co-founders of Cora Lee Cupcakes, a small cupcake shop in Lower Burrell, Pa. Courtney and Kylie each have two children, and the shop was named in honor of Courtney's daughter, Cora Lee, who is on the autism spectrum. The sisters routinely host fundraisers — including a recent comedy night with Pittsburgh comedy legend Jim Krenn — to raise money for school programs.
 WIN A DISCOUNTED BIRTHDAY PACKAGE FROM CORA LEE CUPCAKES!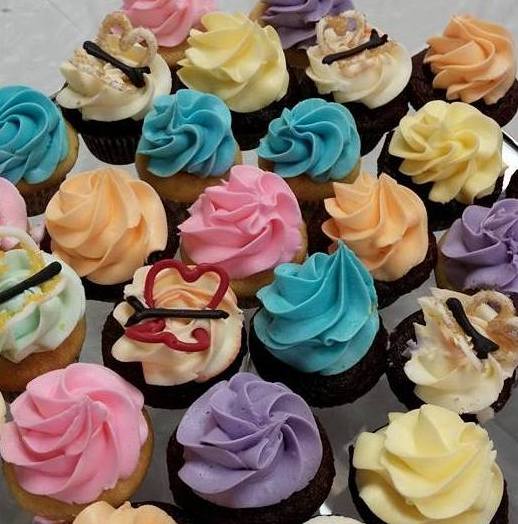 Cora Lee Cupcakes is giving away a discounted birthday party package worth up to $20! The prize can be used any time in 2015. To enter, simply leave a comment below!
ONE COMMITTED MAMA PRESENTS: CORA LEE CUPCAKES
Describe Your Business:
We are a small cupcake shop that works with that works with kids and the community. We do all "mini" stuff since we are kid-based and we love it. Our slogan is "Cupcakes with a Cause" and it rings true everyday.
How long ago did you start your business? What made you decide to start it?
March 2013 is when we started and we did it to support the children of the area that are just your "regular Joe" kids, as well as kids that may have some special quirks about them.
What types of products do you sell, and how did you get started baking?
As of now we do cupcakes, cupcake cakes, and brownies. All of our children have their own cupcakes named after them.
We have always baked at home.  Kylie has the culinary degree and is a master in the kitchen.  I (Courtney) on the other hand started making the kids cakes when they were born and, to this day, make all of their birthday cakes. It is a tradition and that sparked my baking talent!
Describe your first few months getting started. What were your major challenges?
Just getting started with the fear that we may not be able to pull it off. It still is haunting that we are doing this, but so far so good!
What surprised you the most about yourself and your business?
The support that we have received from our family, friends, and community. We would not be able to survive if we did not have the word of mouth for what we do or the support that keeps coming back to us.
How has owning your own business benefitted you as a mother and wife?
Good question! Having our own business makes us remember that we still have our own families to run and to keep a happy medium between it all.
On a personal note, I (Courtney) would like to say that when you are lucky enough to have a sister that cares for your children as much as you do — and sees what efforts go into raising a child with special needs — she never even batted an eye that she wasn't going to help me with this dream. I could not ask for a better partner or sister to have this adventure with.
What do you enjoy the most about owning your own business?
The people who come in to see us, the returning customers, all the new friends we have made, but most of all, hearing the kids come in and how much fun they have when they come in – we love that!
What are your goals for the future?
To think about the future is nice, but we are day-by-day girls and are just enjoying what we are doing in the present.
What advice do you have for women who may want to take the leap and own their own businesses?
Take the chance! Make sure you have a great support system to help you.  Kylie and I are lucky enough to have great husbands, and our mom and dad.  Also, the kids are amazing at selling our product.  They love it and think it is cool that we have a shop.
Cora Lee Cupcakes is located at 2881 Leechburg Road, Lower Burrell, PA 15068. You can contact them by calling (724) 681-5498 or through their Facebook page.
BIRTHDAY PARTY PRIZE PACKAGE GIVEAWAY!
The prizewinner will receive a discounted party package rate of $8 per child instead of the standard $10 per child for a party of up to 10 children – a savings of $20! The package can be used anytime in 2015 and includes the theme of your choice, cupcake decorating, games and gift bags.
To enter, all you have to do is leave a comment below! (Comments will be moderated before appearing on the page.) The winner will be randomly selected via computer program and notified by email on or about Nov. 28.
The deadline to enter is Wednesday, Nov. 26.
2 Comments