National Geographic Heroes & Heroines Product Review & GIVEAWAY!
November 17, 2016|Posted in: Moms Meet, Product Review
I received this product for free from Moms Meet, May Media Group LLC, who received it directly from the manufacturer. As a Moms Meet blogger, I agree to use this product and post my honest opinion on my blog. The opinions posted are my own.
If you follow my blog, you know that my daughter is obsessed with superheroes. Namely, she loves the DC Super Hero Girls, but she also loves watching the old "Batman" TV show (yes, the old one with Adam West) and the old "Wonder Woman" TV show (yes, the one with Lynda Carter. Don't judge – we don't have cable).
Therefore, I was absolutely thrilled to get the chance to sit down with my daughter and review two new awesome new books from National Geographic Kids: The Book of Heroes: Tales of History's Most Daring Dudes and The Book of Heroines: Tales of History's Gutsiest Gals.
Like all National Geographic Kids books, these hardcover books are both beautiful and brilliant. Since they mostly focus on real-life heroes (as well as a few fictional ones), they gave me the chance to talk to my daughter about what heroes are, who her role models are, and what she thinks makes a great hero. "Someone who's kind and and helps other people," she answered. Smart kid.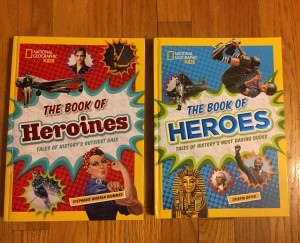 Like many moms, I worry about the influence that our society's over-emphasis on celebrities and pop culture will have on my kiddo, so I loved being able to show her stories of real women who've made significant contributions to the world at large.
In The Book of Heroines, there are true stories of superstars, war heroes, world leaders, peacemakers, and other women who changed the world, including profiles of women like Mother Teresa, Marie Curie, and Misty Copeland. My daughter was excited to read the profiles of Olympic athletes like Katie Ledecky and Kerri Walsh-Jennings and, of course, squealed in delight when she saw the two-page spread dedicated to Wonder Woman. She was also intrigued by the profile of Malala Yousafza, the 15-year-old who risked her own life to stand up for justice.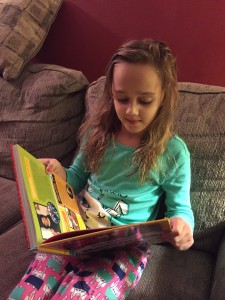 She was equally fascinated by The Book of Heroes, which includes stories of superheroes, rebels, world leaders, action heroes and sports legends like George Washington, Robin Hood, King Arthur, Jesse Owens, John Lennon and Galileo.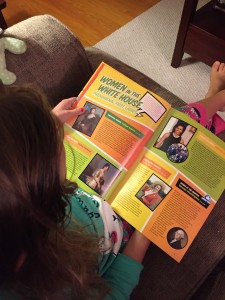 The heroes in these two books share seven stupendous qualities:
Heroes are courageous.
Heroes do the right thing.
Heroes have compassion.
Heroes are competent.
Heroes are inspiring.
Heroes never quit.
Heroes leap to action.
The Book of Heroes and The Book of Heroines retail for $14.99 each, and they would make AWESOME gift books for children ages 8-12.
The books are available for purchase wherever books are sold, including Barnes & Noble, Books-a-million, the National Geographic Store (ShopNG.com), and amazon.com.
***Win These Books!***
Please note: The contest is now closed.
One of my lucky readers will win a set of BOTH of these beautiful hardcover National Geographic Kids books! To enter, simply comment below by answering the following question:
If you could have a dinner party with any hero or heroine, living or dead, who would you invite and why?
The contest ends Monday, Nov. 21, 2016 at midnight. Winner will be notified on Tuesday, Nov. 22, 2016 by email.
Stay connected! Follow One Committed Mama on Facebook, Twitter, Google+, Instagram and Pinterest!
16 Comments