Moms Meet Product Review: Xlear Care Kit
June 8, 2015|Posted in: Healthy Living, Moms Meet
Dislosure: I received this product for free from the sponsor of the Moms Meet program, May Media Group LLC, who received it directly from the manufacturer. As a Moms Meet blogger, I agree to use this product and post my opinion on my blog. My opinions do not necessarily reflect the opinions of May Media Group LLC or the manufacturer of this product.
A few months ago, following my thyroid surgery, we committed as a family to "detoxifying" our lives, and this includes replacing our standard chemical-laden conventional health and beauty products with more natural ones. So when Moms Meet offered me the chance to review a line of all-natural, non-GMO health products from Xlear, Inc., I jumped at the chance!
Included in my review kit were the Xlear Nasal Spray, Spry Non-Flouride Toothpaste, Spry Oral Rinse, Spry Gum and Spry Gems (breath mints), as well as a new Spry toothbrush made from earth-friendly bamboo. We've been using the products for a few weeks now.
All of the Xlear products incorporate xylitol, a natural sweetener that has proven health benefits. The first product we tested was the Spry Peppermint toothpaste, and I noticed an immediate difference in the smell and taste of it compared with conventional, drugstore-brand toothpastes. It smelled and tasted fresh, like real food. No surprise there – the toothpaste is flavored with natural peppermint, and is 1/3 xylitol. After brushing my teeth with it for the first time, my 5-year-old daughter told me, "Your mouth smells like a candy cane."
When used in the toothpaste, xylitol increases mineral absorption into teeth enamel, resulting in greater protection. It's fluoride free, so it's not harmful if swallowed, which means it's great for kids.
Next, we tried the Spry Oral Rinse, which was quite different from standard mouthwashes. To me, drugstore-brand mouthwashes are too strong – I'm not a fan of the alcohol burn — so I tend to avoid them. The Spry Oral Rinse, however, was mild and cooling. It uses a mix of natural flavorings and herbal extracts, including aloe vera and chamomile, to sooth irritated mouth tissues. Like the toothpaste, it has a fresh taste and feel, and wasn't medicine-y at all. I also like the fact that the eco-friendly bamboo toothbrush included in the kit is biodegradable and naturally anti-microbial — better for you and for the environment than a standard plastic-handled toothbrush.
I'd actually had the chance to try Spry chewing gum in the past (my dentist had samples), so I was excited to see that it was included in my review kit. Let me tell you – this gum is FABULOUS. It tastes delicious and since it's flavored with peppermint oil and xylitol instead of artificial sweeteners, it's actually good for your teeth, too.
The same goes for the Spry Gems, which are tasty little ph-balanced breath mints – they're sweetened with 100% xylitol, which has been proven in clinical studies to reduce the number of bacteria that stick to your teeth. These mints can actually help to prevent tooth decay! We're sold on both and plan to continue to use them.
Finally, my husband and I both tested out the Xlear Nasal Spray (no, we didn't share the same bottle – that would be gross!) We're big fans of saline rinses and neti pots when we have stuffy noses, so I was anxious to try the sprays. They contain a patented saline and xylitol solution has been proven to decrease bacterial adherence in the nose. My husband suffers from terrible spring allergies and also caught a nasty, headache-inducing virus during the trial period, so he was a prime candidate for testing the spray.
I tried it several times after being attacked by mountains of pollen while gardening; I've found that the spray is soothing and doesn't burn like the neti pot solution can. Since the Xlear spray isn't medicated, it's non-addictive and won't harm your nasal passages. Instead, the natural xylitol helps the body's natural cleansing process to clear away allergens, asthmatic triggers and other harmful bacteria.
Overall, we enjoyed testing out these products, and we plan to add them to our ever-growing arsenal of better-for-you health and beauty products.
COUPON ALERT!
Want to try these awesome Xlear products for yourself? Now you can get the Xlear Care Kit (a $65 value) for just $25 by using the code SAVE50. Here's what you'll get in the kit: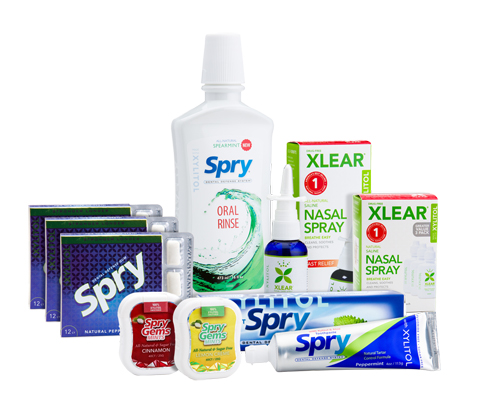 5 fl oz Xlear Nasal Spray
75fl oz Xlear Nasal Spray (3 pack)
Non-Fluoride Peppermint Toothpaste
Spearmint Oral Rinse
40ct Lemon Creme Gems Mints
40ct Cinnamon Gems Mints
12ct Peppermint Stronger Longer Gum
12ct Spearmint Stronger Longer Gum
Visit http://www.xlear.com/xlear-care-kit-special/ to order your kit today! Offer expires June 30, 2015.