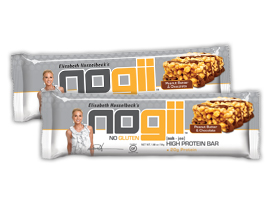 Moms Meet Product Review: NoGii Gluten-Free Solutions
June 26, 2015|Posted in: Uncategorized
I received this product for free from the sponsor of the Moms Meet program, May Media Group LLC, who received it directly from the manufacturer. As a Moms Meet blogger, I agreed to use this product and post my opinion on my blog. My opinions do not necessarily reflect the opinions of May Media Group LLC or the manufacturer of this product.
We're a pretty active family, so I'm always looking for nutritious, travel-friendly snacks for when we're on the go. That's why I was thrilled when Moms Meet offered its Blogger Ambassadors the chance to try NoGii gluten-free protein bars and paleo bars.
While I don't need to maintain a gluten-free diet – in light of my thyroid issues, I've been tested for celiac disease and gluten sensitivity, and was negative for both – I do understand appreciate the benefits to limiting, if not completely eliminating, the amount of gluten in your diet.
When I first signed up for this sample program, I was told I would receive samples of NoGii's entire product line. What I did not expect was for the delivery man to show up on my doorstep with a large, heavy box packed to the brim with Nogii products. Included in the box were full packages of:
High Protein Bars in Peanut Butter & Chocolate, Cocoa Brownie, Chocolate Mint & Chocolate Coconut
High Protein Bars in Cookies & Cream, Rocky Road & Chocolate Peanut Butter Cup;
Paleo Bars in Nuts About Berries, Nuts About Nuts, and Nuts About Tropical Fruit;
Protein D'Lites in Chocolate Caramel Bliss;
Whey & Quinoa Protein Powder;
a super-cute NoGii T-shirt; and
a copy of Elisabeth Hasselbeck's "The G-Free Diet."
That's a lotta samples to sample. Upon opening the box, my 5-year-old exclaimed, "WOW! Chocolate!" What can I say? She is her mother's daughter.
NoGii was founded by Elisabeth Hasselbeck, award-winning talk show host and the New York Times bestselling author of two books: "The G-Free Diet" and "Deliciously G-Free." In her book, Hasselbeck details the debilitating chronic symptoms that she suffered from for years before being diagnosed with celiac disease and offers advice for living a healthy and gluten-free lifestyle. (Side note: I always appreciate it when celebrities use their fame and star power to help the greater good. If only more celebrities would do the same, right?)
One of the reasons I was anxious to try these bars is because they're made with sustainably sourced, premium ingredients. NoGii makes it a priority to use dedicated, single-source ingredient suppliers that grow, harvest, mill and package their products, which provides the least possible chance of contamination. All products are marked with GFCO certification for easy identification.
NoGii bars have an ideal balance of protein, fat, and carbohydrates, and they do not contain any trans fat, hydrogenated oils, or high fructose corn syrup. Mama like.
And these bars are PACKED with protein. NoGii's High Protein Peanut Butter & Chocolate Bar, for example, is a delicious, certified gluten-free, and non-GMO protein bar with 20 grams of protein (it retails for $2.50-2.99 for a 1.93-ounce bar). The Chocolate Peanut Butter Caramel Crisp SUPER Protein Bar has 30 grams of protein – more than you'll find in a good-sized steak and five times more protein than in a large egg!
Now, I'm not saying that these bars should replace eating whole foods. While the High Protein Bars contain around 220-240 calories each, the Super Protein Bars contain between 390-410 (!!!) calories each, so those puppies should be factored in as a meal replacement, and not just as a snack. I packed up a bag of different bars for our neighbors, who are healthy eaters and fitness buffs. While they loved the taste, they did express concerns about the high calorie count in the Super Protein Bars. When used as a periodic meal replacement, though, they found that the bars gave them enough energy and sustenance to help them power through a hectic day.
We've taken some of the bars when we've gone bike riding, and I found that having one of the High Protein bars (Chocolate Coconut is my favorite!) in the middle of the ride helps my belly stay satisfied until we make it home for lunch.
I also kept a few of the D'Lites in my purse for when we were out and about. At just 130 calories each, the D'Lites were the perfect size to ward off the "hangries" in between meals. And, since these contained just 7 grams of protein, I felt comfortable letting my daughter snack on one every once in a while.
If you follow my blog, you know that I'm an advocate of healthy eating, and of course you shouldn't rely solely on protein bars for daily, long-term sustenance. (Hasselbeck also states this in her book, pointing out that the preservatives in ready-made foods can be harsh on your system.) However, these bars are tasty nuggets of goodness that are perfect for when you're on the road, need refueling after an intense workout, or having a crazy day that leaves little time for a home-cooked meal.
Each one I sampled tasted delicious, and they didn't have that "chemical" or "fake food" taste that a lot of other protein bars can carry. My absolute favorite bars out of everything I sampled were the "Nuts About Nuts" Paleo bars. Why? Because they're made with 100% whole foods: Here's the ingredient list: almonds, dates, cashews, honey, sunflower seeds, pistachios and safflower oil. That's it. One-hundred-percent natural, with only 200 calories and 5 grams of protein.
The only beef (pun intended) I have with the protein bars is that they contain soy protein isolate as part of the Nogii Protein Blend (which also contains tapioca starch, milk protein isolate and whey protein isolate). There is a good amount of controversy regarding the use of soy protein isolate in processed foods. On page 87 of "The G-Free Diet," Hasselbeck herself acknowledges the soy-isolate-protein controversy when she writes, "…countries whose populations consume soy (and whose populations seem to reap the health benefits) are consuming soy in a food form. There is some question about the role of soy protein isolate as helpful or harmful in cancer and other diseases."
Since Hasselbeck acknowledges this, I was somewhat confused as to why soy protein isolate is being used the NoGii protein bars. I would love to see NoGii move completely away from the use of soy protein isolate in the future.
Overall, sampling the NoGii protein bars has been a great experience for my family. The only product we still have yet to try is the Whey & Quinoa protein powder, which includes 7 grams of fiber and 20 grams of protein. I plan on mixing a few scoops into my next round of smoothies to give them more staying power. If you're on a gluten-free diet, I highly suggest snagging a copy of Hasselbeck's book: it clearly and expertly defines the tools you need to maintain a healthy, gluten-free lifestyle.
ENTER TO WIN!
How do you incorporate healthy snacking into your lifestyle as a busy mom? Enter the NoGii TABLESETTERS Contest for a chance to win a trip to New York City, where you'll meet and have lunch with Elisabeth Hasselbeck! To enter, visit facebook.com/nogiinogluten, look for the link for the contest, and complete the entry form. Hurry! Contest ends on July 31st, 2015.
Spread the word about this contest by sharing the details on your blog and through your social media channels using the hashtag #nogiitablesetters. Good luck! Come back and let me know if you win!
Follow NoGii on Facebook, Twitter and Instagram!
Don't forget to follow One Committed Mama on Facebook, Twitter. Google+ and Instagram!