Moms Meet Product Review: MegaFood Kids Nutrient Booster Powders
October 6, 2016|Posted in: Moms Meet, Product Review
Disclaimer: I received this product for free from Moms Meet May Media Group LLC, who received it directly from the manufacturer. As a Moms Meet blogger, I agreed to use this product and post my honest opinion on my blog. The opinions posted are my own.
As far as my daughter's eating habits go, we've been mostly lucky: she likes a decent variety of foods, devours plenty of fruits and veggies and understands the difference between foods that are good for you and others that are "ok for you every once in a while" (I'm looking at you, cupcakes).
Yet, as her mom, I still worry that she's getting enough nutrient-rich food. That's why I was thrilled to have the opportunity as a Moms Meet blogger to try MegaFood Kids Nutrient Booster Powders. These powders can be mixed into other foods, making it easy for you to sneak extra nutrition into the foods your kids already enjoy. They're especially helpful if your little ones don't like taking a daily multivitamin! They're easy to digest, so they won't cause tummy troubles. And, like all MegaFood supplements, they're free of gluten, soy, pesticides and herbicides. They're also sugar-free and contain NO artificial sweeteners, coloring, flavoring or preservatives.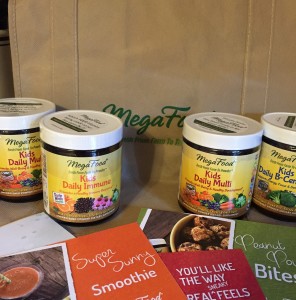 What I like best about the powders is that they're made from REAL FOOD. These are not processed vitamin supplements made with chemicals and artificial colors and fillers; rather, they're made from food derived from family-owned farms. Since 1973, in fact, MegaFood has been a pioneer in the natural products industry, and the company was one of the first companies to make their FoodState® vitamin and minerals from scratch, starting with farm-fresh whole foods. To create these kid-friendly powders, MegaFood partnered with Kauai Organic Farms, Lundberg Family Farms, and Uncle Matt's Organic.
The powders come in three varieties that are specifically designed to support the health and wellbeing of kids who are age 5 or older. We had the opportunity to test all three, which include:
Kids Daily Multi, which contains organic turmeric, carrots, fresh fruits and 23 essential vitamins and minerals per serving.
Kids Daily Immune, featuring oranges from Uncle Matt's Organic and elderberry & echinacea, which promotes and helps to strengthen a healthy immune response year-round.*
Kids Daily B-Centered, featuring Lundberg Family Farms organic brown rice, provides daily support for mental focus, cognitive function, and a sense of calmness.*
In addition to the powders, our kit included two yummy recipes to try: Peanut Power Bites, which are made with oats, nut butter, honey and either the Daily Multi or the B-Centered powder, and a Super Sunny Smoothie recipe, which uses a variety of fruits and the Daily Immune Powder.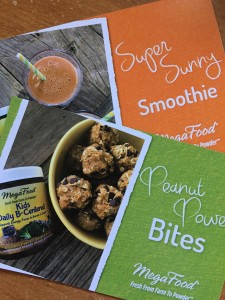 We made both recipes, and they were both super-tasty! The peanut bites were a cinch to mix up and were a scrumptious, healthy snack. We made them with the Daily Multi the first time, and then again with the B-Centered powder, and noticed no difference in taste. My daughter loved them so much that she asked to have one in place of a treat after dinner.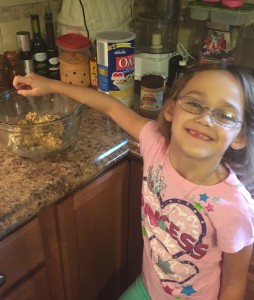 We also made the Super Sunny Smoothie. Even with no added sugar, the smoothie was sweet, delicious and creamy…and the best part? My little one had no idea that the decadent treats we had whipped up were "secretly healthy." (Cue evil laugh: Muah-ha-ha!)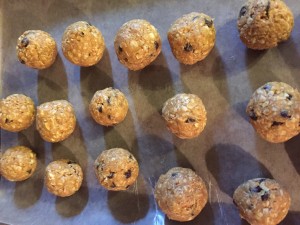 I also tried mixing the powders into her yogurt and her orange juice. She didn't notice it in the yogurt and gobbled it up as usual. As soon as she saw the juice, however, she asked, "Why is it a different color?" and then, "What are those little things floating in it?" (The powder didn't full dissolve, no matter how much I stirred it). I persuaded her to taste it anyway, but she instantly recognized the difference; her reaction made me giggle, so she wanted to know what I had "done to her juice." I will admit that the powder did alter the flavor of the juice a bit, making it taste slightly bitter. Still, she never noticed the powders in any of the other foods we tried, so for me, that's a win-win scenario.
These powders provide parents with an easy way to ensure our little ones are getting the nutrients they need, simply by sneaking them into applesauce, yogurt, puddings, oatmeal, and more.  Want to learn more about MegaFood products? Connect with them on Facebook, Twitter, Instagram and Pinterest!
*This statement has not been evaluated by the Food and Drug Administration. This product is not intended to diagnose, treat, cure or prevent any disease.