May's One Successful Mama: Amber Gunn Thomas, The Patchery + GIVEAWAY!
May 5, 2016|Posted in: One Successful Mama
"Having this freedom really helps alleviate some of the stresses that having 2 parents working corporate jobs can create."
-Amber Gunn Thomas, The Patchery
This month, I'm profiling Amber Gunn Thomas, founder of  The Patchery, an online design-your-own-kid-clothes studio. The Patchery believes that confidence is the best outfit a kid can wear, but clothes are usually required, too. That's why Amber created a place for self-expression where kids—and grown-ups—design one-of-a-kind clothes.
Amber and husband Ryan live in a suburb of Minneapolis with their two children: June, who is 6, and Leo, who is 3 1/2. Ryan works full-time in tech and Amber now works full-time on her business. She's been sewing since she was a kid.
"My sister and I were in 4-H and one of the activities was sewing. My mom made arrangements for us to go to our local seamstresses house once a week and take lessons. I did that for a couple years and since then have sewn on and off," she says. In 2014, while she was consulting, she picked it up again and started making clothes for her kids.
INTRODUCING: AMBER GUNN THOMAS, THE PATCHERY
How long ago did you start your business? What led you to start it?
I've been working on The Patchery for 2 years, but our official launch was January 8, 2015.
For a multitude of reasons, I had left my corporate full-time job in December of 2013. I think the best way to sum it up was that my job was filling up my bank account, but not my soul. There were many reasons why that gig just wasn't working for me anymore. (And I could write an entire blog post just about that!) After leaving that job, I was doing marketing strategy consulting. But 3 months into that, I had the idea for The Patchery. At first I thought I would try to continue consulting while starting the business, but my wise husband knew that The Patchery would never get off the ground if I didn't give it my full attention. So in April, I decided to close all of my consulting projects and focus 100% on building this business.
What types of services/products do you offer?
We are a design your own kids clothing company. On our website, you can pick a style and mix and match fabrics until you get a combination you love. Then we handcraft it for you in Minneapolis, Minnesota.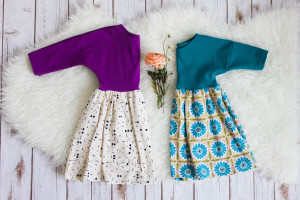 Describe your first few months getting started. What were your major challenges?
We are actually facing our biggest challenge right now, 15 months post-launch. After spending time with our customers we realized that they were understanding the "how" of The Patchery, not the "why." Even our best customers had a hard time articulating why The Patchery existed and why it matters.
We've spent the last 2 months developing our brand story. Now we're doing the hard work of communicating that story in a powerful and consistent way.
What has surprised you the most about yourself when it comes to running your own business?
On a positive note, I am most surprised that I really like working from home, mostly alone. My friend would say I'm an extrovert and that I draw energy from people. But what I've found is that I really draw energy from being productive and I'm at least 3x more productive working now than I ever was working in an office.
Now, to expose my vulnerabilities a bit, I have been (and continue to be) surprised at how much starting a business can shake your confidence. I've always been a confident person, but this journey will make you question everything you ever thought you knew. Having a solid support system to prop you up when you are feeling low is a requirement. Emotionally, you can't go this alone.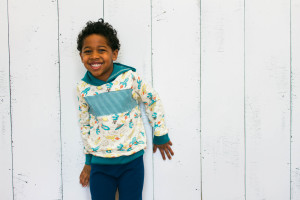 How has owning your own business benefitted your family?
Interestingly, I work longer hours now than when I was in a corporate job, but I get to place those hours in the day when it works best for me. I typically don't start my day until 9:45 (after I drop my kids off at school/daycare). Then I work straight through until 5:15 when I go pick them up. 6-9 is family time and then I'm back to work again from 9-midnight. Having this freedom really helps alleviate some of the stresses that having 2 parents working corporate jobs can create.
What do you enjoy the most about owning your own business?
Making a tangible product. In the past, I worked what would be labeled "knowledge" jobs. My output everyday was answering emails, writing PowerPoint presentations, attending meetings…you get the gist. At the end of the week I would ask myself what I actually "did" and it was hard to come up with anything. Now at the end of the week, I can look at the beautiful products that we made and it gives me an incredible sense of fulfillment.
What are your goals for the future?
Right now we are really focused on growth. We need to be 3x or 4x bigger than we are now for me to feel like we are on solid footing. Then we'd be able to starting realizing some of my other dreams like having a workshop, employing more talented people, deploying more technology to streamline our processes, and expanding our products.
What advice do you have for women who may want to take the leap and own their own businesses?
Get an advisory team. Get 3-4 people that are going to go on this journey with you. They should have diverse backgrounds that fill gaps in your own knowledge. On my team, there is someone with a lot of start-up experience, someone who knows how to take start-ups to the next level, someone with extensive retail knowledge and someone with deep technical expertise. You can not do this on your own.
WIN A $25 GIFT CARD TO THE PATCHERY!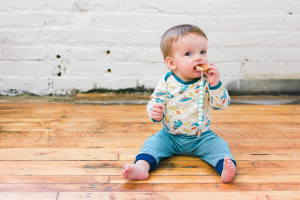 Amber wants to give one lucky reader a $25 gift card to The Patchery!
To enter, simply comment below and tell us who or what inspires your kids' style. Do they dress like their favorite superhero? Pick fashion over function? Prefer pajamas to princess dresses? Share your thoughts below and you'll be entered to win a $25 gift card to The Patchery!
Contest ends at 11:59 p.m. on Thursday, May 12, 2016. The winner will be notified via email on or about Friday, May 13, 2016.
Follow The Patchery on Facebook, Instagram, Pinterest and Twitter!
Follow One Committed Mama on Facebook, Twitter. Google+, Instagram and Pinterest!
6 Comments