July's One Successful Mama Profile: Jillian Darlington, MomCo App
July 21, 2015|Posted in: One Successful Mama
 "Although I am extremely busy, it allows me to be able to spend time with my son and still be the type of mom that I want to be." – Jillian Darlington, MomCo
This month I'm profiling Jillian Darlington, founder and CEO of the successful MomCo app, which helps moms connect with other moms as well as the businesses that cater to them and their children. Jillian is a successful entrepreneur, business consultant, public speaker and work-at-home lifestyle expert. She's also a full-time single mom to son Taylor, 7. Jillian and Taylor live in sunny San Diego with their bunny and two hamsters.
How long ago did you start your business? What led you to start it?
I was a stay-at-home mom when my son was born. I divorced my husband when my son was 2 and needed to find a way to support myself and my son so I purchased my favorite indoor playground.  As Taylor entered elementary school, I decided to sell the indoor playground and invested the money into my new business venture, the MomCo app.
The MomCo app was truly inspired by my own life experiences. As a young mom, I worked tirelessly going to playdates and classes with my son just hoping to click with another cool mom to be friends with. After I got divorced, I downloaded the Tinder app. It made me think, "Why doesn't something like this exist for moms to locate other moms that live close to them?" As the owner of indoor playground, I was always trying to find a way to advertise to my target demographic that was within my budget.
This is how the concept for the MomCo app was formed. It's a GEO-location-based social networking app for moms to find friendship and support. Also, it's the perfect platform for any business that caters to women and children to be able to list themselves so all the moms in their community can easily find them. The app is based on proximity, so the moms and businesses that are closest to you show up first. You can also plan playdates, get support through forums, save money through deals and find events in your area. It is truly a one-stop-shop app for moms.
The MomCo app solves issues for moms and small business owners. I came up with the concept in January 2014 and the official launch was in April 2015.
What types of services/products do you offer?
The MomCo app is free to download for moms and small businesses. We also have a popular blog that provides information that moms are interested in. We are interested in getting moms to connect in person, not just online.
The playdates feature in our app helps do this. We are going to support moms that enjoy having playdates through our "MomCo Mama" program that is being launched soon. Stay tuned for that.
Describe your first few months getting started. What were your major challenges?
The first major challenge was trying to start an app without any tech experience. I was determined, though. I spent weeks reading every Forbes article on apps and watching YouTube videos about developers. I wanted to gain enough knowledge so I could speak to the developers. Each month comes new challenges, but I just find a way to get through it. The other challenge that I am always faced with is that I am a single mom. Trying to start a business while being the type of mom that I want to be is crazy, but well worth it.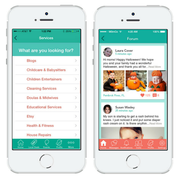 What has surprised you the most about yourself when it comes to running your own business?
Being a woman starting a business in the tech industry…you are a minority. I was pretty shocked at how you are treated, especially when it comes time to get funding. This industry is still dominated by men. I am hoping to change the perception of women in tech and teach young girls that they can go into this field.
How has owning your own business benefitted you as a mother and/or wife?
I love the flexibility of owning my own business. Although I am extremely busy, it allows me to be able to spend time with my son and still be the type of mom that I want to be. I can go to school parties, sports events, birthday parties, etc. Being able to do these things are so important to me.
What do you enjoy the most about owning your own business?
I love that I am in charge of my destiny. I dream big and plan to take this business far. I love building a brand that other people are rallying behind.
What are your goals for the future?
My goal for the MomCo app is for it to be the app that every mom downloads the minute she finds out that she is pregnant. MomCo was founded on Moms Helping Moms and everything that we do supports that mission. We want to help moms all over via the app and in other ways. A lot is planned for the future!
What advice do you have for women who may want to take the leap and own their own businesses?
It is not easy to start and run your own business. Quitting can't be an option; otherwise, there are a few times that I may have done it myself. But if you truly have passion for what you are doing, it will get you through those hard times. Find a network of people that can support you and believe in you. Help them in what they are doing and they will help you.
Download the app now, build your profile, and start connecting!
The MomCo App is available for FREE on both iPhone and Android platforms.
Connect with MomCo on Facebook, Twitter and Instagram!
Don't forget to follow One Committed Mama on Facebook, Twitter. Google+ and Instagram!
What is the most challenging part of trying to connect with other moms? Share your thoughts below!