Introducing: One Successful Mama Profiles!
September 24, 2014|Posted in: One Successful Mama
"I finally feel like I am the mother and wife I have always wanted to be."  – Shannon Koch
This month on my blog, I'm launching a series of regular profiles on women who, in addition to being full-time Mamas, have started their own businesses. Whether they've arrived on their journeys by choice or circumstance, these women all have one thing in common: passion for their work.
First up is Shannon Koch, a mother of two adorable kids who has found success by starting her own Jamberry Nails business, SoLongSalon, in July 2013.
Shannon is giving away these super-cute Mommy & Me Monster Mani nail wraps from Jamberry to one lucky reader (see image below)!
The winner will receive 2 full sheets, which includes two rows of the monster faces and a full row of the pink webs. The regular size Monster Mash is a full sheet and can do between 3-4 manicures and/or pedicures! Read through to the end of the post for details on how to enter! This value of this giveaway is more than $30! (UPDATE: CONTEST IS NOW CLOSED.)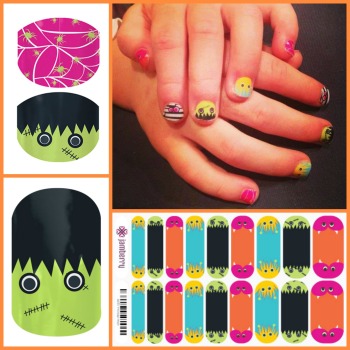 ONE COMMITTED MAMA PRESENTS: SHANNON KOCH
Why did you decide to join Jamberry?
I was first a customer with Jamberry Nails. I came across the product online in March 2013 and saw they have the Autism Awareness wraps. My daughter is autistic and we participate each year in the Walk Now for Autism Speaks in downtown Pittsburgh. I thought this would be a fun way to show support, plus $2 from each Autism Awareness wrap goes to the National Autism Society.
I cannot paint my nails to save my life so I decided to play it safe and try them on my toes. I received so many compliments about my toes that day, I was shocked. I kept tossing around the idea of joining just for something fun to do and to get myself a discount.
In July, my husband's company closed and I was only working part-time two to three days a week for an insurance agent, with no option to work more. We knew we needed something to help fill the gap and Jamberry Nails seemed to be the answer. We took a leap of faith and invested in my kit.
How big is your team? What areas do you represent?
I currently have six women active on my team and a few more that I am talking to. I was not in a position in my personal life to really focus on team building when I first started with Jamberry Nails. Now that Jamberry Nails is my full-time job, I am more focused on growing my team and am more available to properly guide them. I am able to recruit and train girls not just local to Pittsburgh, but anywhere in the USA.
We do not have any territory other than the limits of the USA and some provinces in Canada. I am personally willing to travel within an hour of Pittsburgh. Thanks to technology, I am able to conduct virtual parties (different than Facebook parties). Then there is always the catalog party, Facebook party, and so on.
Describe your first few months getting started. What were your major challenges?
I think the biggest challenge just starting out was name recognition. Jamberry Nails is relatively new, only launched in 2010. Very few people I knew had even heard of it. Also, I had never even been to a party. I had found Jamberry Nails online so I had no idea how to do a party, or even how to do the application! As I mentioned before I never painted my nails, I can hardly do make up and forget about styling my hair. I knew I was going to have to learn how to do the application so I did my fingernails, and I thought my application was great! Looking back, it was bad. So, so bad, but they still lasted about 2 weeks. My next application was better, and kept improving. Once I got the confidence in my own application skills I finally had my first home show. From there I had several friends who were hooked. I started participating in vendor shows and booking home parties.
What surprised you the most?
I think what has surprised me the most is just how much people really do notice my nails. Because my nails are my advertising, people just ask about them everywhere I go: Swiping my card at checkout, eating at a restaurant, just doing everyday things. I always make sure to have extra business cards and maybe even a sample or two ready for when people ask about them. I even have a shirt now that reads, "I Get Paid To Have Pretty Nails."
One of my main concerns with starting my own business was space. We have a modest home, but don't have a lot of extra space to store large amounts of inventory and other business supplies. I can fit my personal inventory in a small photo album. I can do an entire party from a small tote bag. I use a larger bag for my vendor shows, but really, my overhead is minimal.   I have a desk that I keep all my paperwork and a couple of drawers dedicated to keep my recruiting, hostess and guest packets in.
How has owning your own business benefitted you as a mother and wife?
I finally feel like I am the mother and wife I have always wanted to be. I always worked outside the home and tried my best to juggle everything. My husband is actually my children's stepfather; we've been married for only 3 years, so there was a period of about 7 years I was a single parent. There was a lot of guilt associated with that, especially with my daughter because we were having struggles getting her the right treatment with my needing to work full time. I lost my job in 2012, and it was a true blessing in disguise. I was finally able to focus all my energy on getting things in place for her. We were able to have her transferred to a wonderful private school that she has had tremendous growth over the past 2 years. We were also able to start in home therapy, which has helped all of us.
I have a very strong work ethic; I used to work 2 jobs as a single mother, and 60+ hours when I was in the corporate world. Not working was never an option for me, so I started working part time for an insurance agent. Once Jamberry Nails started gaining momentum, I was able to leave that job in March 2014 and focus 100% of my work time on my business. I now make more and work less than when I was at the insurance office.
The confidence I have gained from owning my own business has definitely benefitted my family. As anyone who has gone through unemployment can tell you, it's a confidence killer. All the hard work you spent away from your family suddenly feels like it's for nothing. With Jamberry, I feel like it's all for something.
I have also been able to incorporate my family into my business. My husband is a graphic designer and a marketing guru, so he helps me design some flyers and get the word out. He actually helped me with a vendor show once when a teammate couldn't make it. That was a fun day, seeing a 6'4" man selling nail wraps to women. Priceless! My kids help me make up my sample packets and party packs. My daughter is a great help with advertising. When she has her nails done, she knows to say, "Thanks, my mom sells Jamberry" when she gets a compliment.
My family is the biggest part of my success. They always ask how a party went, or a vendor show. I think it has helped teach my kids a good lesson about hard work paying off also. They see the work that goes into it and see the benefits also.
What do you enjoy the most about owning your own business?
The flexibility of my schedule now is what I enjoy the most. I am able to schedule events around my family schedule, instead of the other way around how it was in my corporate life. This summer we moved, and I was able to lighten my schedule so that I could get things done.
What are your goals for the future?
My goal is to continue to add amazing women to my team and help them achieve their own goals. I have a wonderful upline. My Team Manager was one of the first 200 consultants and one of the first 12 Elite Executives. She has been a great inspiration and help to me growing my business and giving me guidance on how to grow in the future. I am so blessed to be able to learn from her and my team has the same access as I do. I am mid-level right now, above consultant and right below management. I am on track to be at the management level by end of 2014. I would love to achieve the Elite Executive status one day.
What advice do you have for women who may want to take the leap and own their own businesses?
Do it! In today's economy, people need to get creative and almost create their own job security. According to the Direct Selling Association (www.dsa.org) , in 2013 the estimated sales generated from direct selling was $32.67 BILLION.   With many compensation plans offering anywhere from 25-50% commission just on your own personal sales, not to mention bonuses and commission from your downline… that's a lot of money to be made.
You will directly benefit from the work you put into it. Some have immediate success, some it takes a little longer, but if you keep at it, you will see amazing results.   One of my favorite quotes is from [motivational speaker] Tiffany Peterson, "Persistence trumps talent."
Is there anything else you'd like to add/mention?
I love my job. If you had told me 2 years ago that I would be making my living selling nail wraps I would have looked at you like you had seven heads.
One of my favorite things about Jamberry Nails is they are made right here in the USA.  Also, we have an amazing compensation plan. I start earning bonuses after just $200 a month in sales. I qualify for bonus on each recruit I have, unlike some companies that make you have 3 or more on a team before you qualify. If I only had one girl on my team, I would still get bonus on that one girl. In addition, I can earn free marketing credits just based on my monthly sales, which I can use for my catalogs, brochures, order forms, etc. Because this is earned each month, I rarely have to make out of pocket investments in these items.
Our home office is amazing and they really listen to and value their consultants. I had the privilege of attending our Regional Conference in Cincinnati, Ohio in February and our CEO, Adam, attended and spoke. We know firsthand just how much they appreciate us and love us.
I am looking to add women who want to get paid to have pretty nails to my team! This opportunity is perfect for all types of women. College students, stay-at-home moms, working moms, etc. We have several different consultant options, from hobbyist to professional, part time to full time. Whatever you need Jamberry Nails to be, it will be.
Shannon's Jamberry website is www.solongsalon.jamberrynails.net
You can find her on Facebook and also check out her new website at www.jamminwithshannon.com
TO ENTER THE CONTEST, Click the following link: Mommy & Me Monster Mani Giveaway! (CONTEST IS NOW CLOSED.)
6 Comments