Heather Tarbuck of Buckets Boutique is One Successful Mama
March 10, 2016|Posted in: One Successful Mama
"Raising girls, my husband and I want to show them how to be independent, responsible, self-relying young ladies who will blossom into young women. Hopefully, I am showing them that they can have a goal and accomplish all that they dream…" – Heather Tarbuck, Owner, Buckets Boutique
This month, I'm profiling a local mompreneur: Heather Tarbuck of Buckets Boutique, a fun, funky and fabulous boutique located in the heart of Harrison City, Pa.
The store offers affordable and unique gifts for men, women and kids of all ages — and pets, too! Buckets Boutique carries jewelry, home décor, women's accessories, baby gifts, and everything in between. If you are looking for items that are different than other boutiques carry, then Buckets is the place for you!
Heather and husband Mike have three daughters: Brynn, 15; Myla, 12, and Maryn, 7. The family also has a 3-year-old mini goldendoodle, Eli.
WIN THIS GORGEOUS BRACELET!

In the comments below, tell us about a dream that you always had as a child. Has it been fulfilled? We'll choose one lucky person to win a "Dream Big" Wind & Fire Bangle Bracelet in either silver or gold!
Note: This giveaway has ended!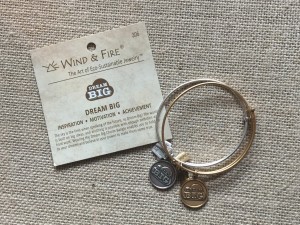 INTRODUCING: HEATHER TARBUCK, BUCKETS BOUTIQUE

How long ago did you start your business? What led you to start it?
Buckets Boutique opened its doors for business on November 1, 2013. Owning my own store has been a dream of mine since I was six years old. When I was six, I asked my parents for a REAL cash register for Christmas. I was lucky enough to receive that real cash register that year and I played "store" any chance I had…from ringing up my mom's groceries every
time she came home from the store, to pulling clothes out of our closets to play clothing store. Anyone who wanted to play was my best friend. I never let go of my dream, but I put it on the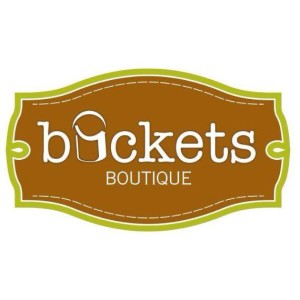 back burner to raise my kids and work from home so I could be a stay-at-home mom. I wouldn't trade those days for anything, but I always wanted to make my dream come to fruition. The year before my youngest daughter started kindergarten, I knew this was my make-or-break moment. If I didn't follow my dream and take the leap, I never would. Thankfully, I have a wonderful and supportive husband who knew my dream and helped me make it come true.
What types of services/products do you offer?
We offer a little bit of everything so we can appeal to everyone. One of our jewelry lines, GingerSnaps and Lotti Dotties, is an affordable, beautiful and versatile jewelry line that people love. We also have a following for our unique clocks and home décor items. We also carry local honey, which people love for the health benefits that it offers. But our selection doesn't stop there: We have baby gifts, candles, homemade wreaths, body care, women's accessories, men's gifts, and more! With new products coming in daily, there is always something new to see!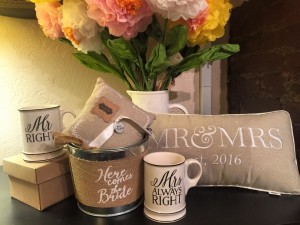 Describe your first few months getting started. What were your major challenges?
Honestly, my biggest challenge the first few months were trying to juggle the change from being a stay-at-home mom to a working mom. I always kept my kids as my focus and I could see that they were struggling with the fact that I wasn't always home when they got off the bus, or I had to be on the computer ordering items or answering emails when I would normally be swimming in the pool with them or playing outside. It hurt me immensely, but on the other hand, I knew that them seeing me as a working mom would also be a good thing for them too. Raising girls, my husband and I want to show them how to be independent, responsible, self-relying young ladies who will blossom into young women. Hopefully, I am showing them that they can have a goal and accomplish all that they dream…it may not always be perfect, but it can be done.
What has surprised you the most about yourself when it comes to running your own business?
That I'm not as organized as I "thought" I was. LOL! Organization is a work in progress for me. However, I am most surprised that I am fulfilling my dream. I love my customers, who make Buckets possible. Some have become like family. They come in and we talk about their kids, grandkids, pets, work life, vacations. We have created a bond. I never imagined that my customers would have such a positive effect on me!
How has owning your own business benefitted your family?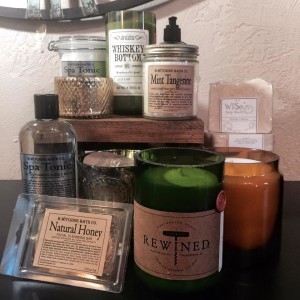 It has brought my family closer. Not only do I have a supportive husband, but I also found how supportive my father, mother, sister and in-laws have been, too. My dad comes in and helps me put products out, fix my computer, run the vacuum, whatever needs done. My mom works for us on a normal schedule, but is always on call when my kids are sick or a school activity conflicts with my work schedule. She also makes beautiful wreaths that we sell in the store and decorates the store for every season. People LOVE her door decoratons! My sister, who has years of manager-retail experience, takes one day from from her weekly work schedule and works in the store for me. She is my "chief merchandising officer." My in-laws are always on call for after-school pickup and are our official sticker department. All the boxes and bags with stickers and ribbon are because of them! Our girls go through catalogs and let us know what we should order and keep us in line with what's "cool." My husband is the money man. He keeps me line…it's not always fun, but necessary. It truly is a family affair.
What do you enjoy the most about owning your own business?
The free reign to do what we want. We are closed on Sundays for "family time." My kids are young. Soon enough, they will be off to college and out of the house. I'm savoring these moments. That's why we take a few days off at each holiday. All the money in the world doesn't replace the memories that we make as a family.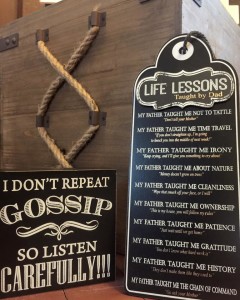 What are your goals for the future?
To show my girls that dreams can come true. To continue to provide my customers with the affordable and unique gifts that continue to bring them through Buckets doors. To best the best mom, wife and business owner that I can be to the ones who matter the most.
What advice do you have for women who may want to take the leap and own their own businesses?
There is NEVER the PERFECT TIME to take the leap. If you have the dream, then you have the strength to take the leap. It's not always easy, there are bumps in the road, but if you take those "bumps" and learn from them, continue to grow, it only makes you stronger. Believe in yourself!
Buckets Boutique is located at 1001 Walnut Street in Harrison City, PA 15636.
*****GIVEAWAY ALERT!*****
In the comments below, tell us about a dream that you always had as a child. We'll choose one lucky person to win the "Dream Big" Wind & Fire Bangle Bracelet pictured at the top of this post! Winner will be notified by email on 3/29/16.
Note: This giveaway has ended.
Follow Buckets Boutique on Facebook and Instagram! 
Follow One Committed Mama on Facebook, Twitter. Google+, Instagram and Pinterest!
12 Comments