Green Your Clean with a FREE Mrs. Meyers Spring Cleaning Kit!
March 30, 2016|Posted in: Healthy Living, Product Review, Saving Money
Hurry! This hot offer expires Sunday, April 3!
I've always loved spring cleaning because it means a fresh start. I clean out my closet, put away my winter clothes, and switch out the flannel sheets. My favorite part is the satisfaction I get from giving my house a thorough clean — I love waking up on one of the first warm mornings, taking a deep breath and finding myself in a more organized, healthy and beautiful space.
If you've been reading my blog for a while, you know that my family has made a concerted effort to green our  health, beauty and cleaning routines, and we've discovered some truly amazing products that work well and are SAFE.
It's a lot easier to feel inspired about spring cleaning when you are using fantastic, non-toxic products that smell amazing…which is why I can't wait to share Grove Collaborative's Mrs. Meyer's Spring Cleaning Kit offer with you!
You'll get a Mrs. Meyer's dish soap and hand soap in one of the limited edition spring scents, a gorgeous Grove Collaborative glass spray bottle and the endlessly useful Grove Collaborative walnut scrubber sponges.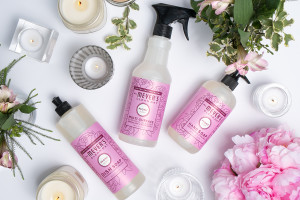 Read on to find out how you get the products below for free!
Mrs. Meyer's spring hand soap
Mrs. Meyer's spring dish soap
Grove Collaborative glass spray bottle
Grove Collaborative walnut scrubber sponges
Haven't heard of Grove Collaborative? You might know it as ePantry, the online store that delivers the best, effective and affordable natural household and personal care products right to your doorstep. This is the same company with a new name! I've become a huge fan of Grove because they make creating a healthy, beautiful home effortless and economical. I also love that shipments are customizable and on a flexible schedule.

Something tells me you're going to be a fan of Grove too, especially after trying this Mrs. Meyer's Spring Cleaning Kit! Grove is one of the very first retailers to receive Mrs. Meyer's limited edition spring scents and trust me, you don't want to miss out. I've tried the peony soaps and they smell delightful!  I've always loved peonies (they were my wedding flowers) and now I can smell them while I'm doing the dishes, washing my hands or wiping down the counter. It (almost) makes cleaning feel luxurious!
The spray bottle is elegant and versatile, too — it's great for concentrates and DIY recipes (like homemade room freshener). The walnut scrubber sponges are now a staple in my kitchen. I love that they're made from plant-based materials, are non-scratch and can tackle tough messes.
And the best part? Whether you're new to Grove or an existing customer, you can take advantage of this spring offer!
If you're new to Grove Collaborative, here's how it works:
New customer? Sign up for Grove Collaborative using this link. You will receive the Mrs. Meyer's spring seasonal offer for free when you sign up! (This is an affiliate link).
Answer 4 quick questions about your home that Grove Collaborative will then use to customize your first basket — this takes under 30 seconds!
Once you've answered the questions, you can finalize your basket of products to suit your household needs by adding or removing items.
To receive this offer, your order needs to be a minimum of $20. Choose the combination of products and scents you love and receive in your first box.
You made it! Click Finish & Pay and place your order.
Already hooked on Grove Collaborative? Existing customers, you can click here to get a free Grove Collaborative glass spray bottle in your next order.
Don't forget this special offer is only available until Sunday, April 3–or while supplies last.
Happy Spring!