Give The Gift of Reading with Bookroo!
October 27, 2015|Posted in: Children's Literature, Product Review
Disclaimer: I was given the opportunity to review the Bookroo subscription service at a discounted rate. All opinions are my own.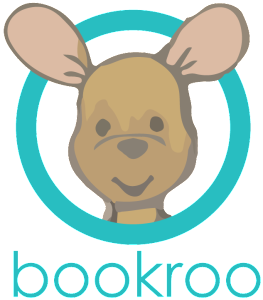 If you're a parent, I'm sure you know that the value of reading aloud to your children cannot be underestimated. Plenty of research shows that reading aloud helps to improve a child's language development and cognitive skills. It's also been proven to improve a child's aptitude for learning, leading to greater success in school. And, of course, it's one of the most effective ways to bond with your little ones and to teach them that reading is indeed fun and exciting!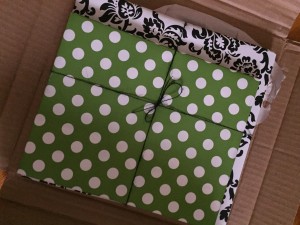 We've been reading to E since the day she was born and, thankfully, she has developed a zealous love of books just like her mama! So when we were given the opportunity to review the new children's book subscription service Bookroo, we hopped (sorry, couldn't resist) at the chance.
Bookroo is a monthly gift subscription service that allows you to select a book type and subscription plan and then have the books delivered to your home. The books come individually wrapped in gorgeous paper, and inside the box is a personalized, handwritten note from a member of the Bookroo team.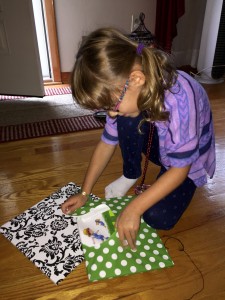 Depending on your child's age, the plan includes either 3 board books or 2 picture books a month. Because my kiddo is 5, we chose the 2 picture-book subscription. You can choose from three different subscription plans: one month for $19.99, three months for $55.99 or six months for $104.99. Each plan comes with free shipping.
When the package came in the mail, my daughter was ecstastic to have received a "present" – especially when I told her that she didn't have to wait for a special day like her birthday to open it!
The books we received were "Bedtime for Monsters" by Ed Vere and "I Can Be Anything" by Jerry Spinelli. Both were colorful, beautifully illustrated and definitely of gift-book quality. E absolutely adored the "I Can Be Anything!" book, and we've already read through it multiple times.
If there's one suggestion I could make about the service, it's that I wish that users could customize a child's likes or dislikes upon signing up, as subscribers to services like BirchBox or StichFix can. My daughter, for example, has a fear of anything monster-ish, so at first she was a little wary of reading the "Monster" book. Once we read through it and she saw how silly it is, she enjoyed it…but it would be hel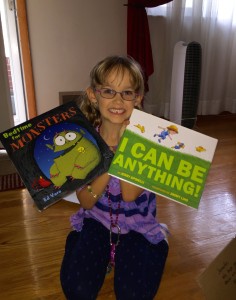 pful if, in the future, Bookroo included the ability to customize their deliveries to a child's interests.
Overall, Bookroo is a wonderful service for parents who are looking to enhance a child's love of reading. It also provides a great gift alternative for the children in your life. Unlike toys, a Bookroo subscription is the gift that keeps on giving, as children will look forward to what the next month's Bookroo box will bring! And now, as a thank you to my readers, Bookroo is giving you the opportunity to join the fun at a discounted rate!
INTERESTED in trying Bookroo? Use this link to receive a $4 discount off the price of any plan: Bookroo Discount
Follow Bookroo on Facebook , Twitter and Instagram!
You can follow One Committed Mama on Facebook, Twitter. Google+ and Instagram!