E-hydrate Review and Giveaway! #momsmeet
April 20, 2016|Posted in: Healthy Living, Product Review
Disclaimer: I received this product for free from the sponsor of the Moms Meet program (greenmomsmeet.com), May Media Group LLC, who received it directly from the manufacturer. As a Moms Meet blogger, I agree to use this product and post my opinion on my blog. My opinions do not necessarily reflect the opinions of May Media Group LLC or the manufacturer of this product.
As an active family, we're always looking for ways to sneak in healthy, nutritious snacks when we're on the go. While we try to stick to whole foods as much as possible, having ready-made foods are a must for those times when we're either too busy (or, let's face it, too tired) to prepare a nutritious snack or meal. And many standard, kid-friendly, ready-made snacks are typically packed with too much sugar, fake ingredients and scary chemical "flavors."
Well, move over, processed granola bars: there's a new snack in town, and it goes by the name of E-hydrate.
E-hydrate's products are made with natural ingredients and flavors, are low in sugar, and their protein products deliver enough protein to keep your family feeling full and satisfied for hours. Our family had the opportunity to test out Protein On-the-Go, Kids Protein On-the-Go, and a few different flavors of the Natural Drink Mix (Hydration + Energy) and Kid's Natural Drink Mix (Hydration + Immunity).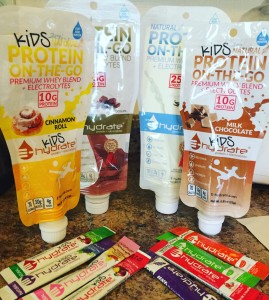 My little one was excited to try both the chocolate and cinnamon-roll-flavored Kids Protein-On-the-Go products. Both the adult and kids versions come in patented easy-to-use and ready-to-mix pouches; all you need to do is add water and shake it like a Polaroid (sorry, couldn't resist). My daughter said it reminded her of "something astronauts would eat," and she got a kick out of the fact that she could drink it right out of the pouch. She's used to those ubiquitous "squeezy packs" filled with fruits and veggies, so this was not an unusual experience for her. I, on the other hand, found drinking out of a pouch a little bit awkward at first, probably because I'm not an astronaut.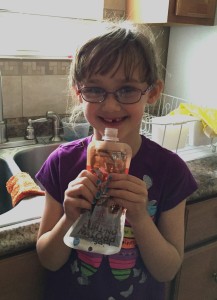 For only having 150 calories and 4 grams of sugar per pouch, I was shocked at how sweet the On-the-Go products tasted. The chocolate protein shake tasted like I was drinking brownie batter (nope, not a bad thing). It kept me full for hours. My daughter loved the chocolate pouch, but was a little turned off by some of the "chunks" that hadn't fully dissolved yet, even though we followed the directions on the pouch and shook it up several times. (We were sure to shake subsequent pouches a little more vigorously, and that seemed to do the trick.)
I was equally surprised by the sweet/tart flavor of the drink mixes. At first, my little one was scared to try the Kid's Drink Mix because it fizzed like an Alka-Seltzer (although she did say "WOW!" when it first hit the water), but after the bubbles dissolved a bit, she sucked it down with a straw in no time at all. She liked the grape flavor the best; I was partial to the orange. All of the products are sweetened with all-natural Stevia, which is 200 times sweeter than sugar. In other words, a small amount packs a huge punch.
What I love about these products:
They're made with natural ingredients and flavors.
The Protein On-the-Go pouches deliver 25 grams of clean (whey–not soy) protein with only 150 calories and four grams of sugar.
The Kids Protein On-the-Go pouches deliver 10 grams of premium protein and only 70 calories.
The Hydration Drink Mixes can be added to any liquid to deliver the recommended daily amounts of B, C, and D vitamins and minerals, and contain more electrolytes than leading sports drinks.
The Hydration Drink Mixes have ZERO grams of sugar and only one carbohydrate. The Kids mixes are caffeine- and taurine-free; the adult version contains 40mg of caffeine and only four calories!
The products are Kosher and don't have any artificial sweeteners, colors or preservatives.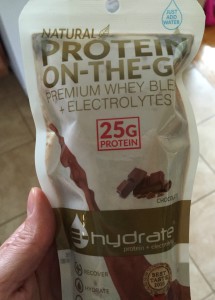 A single pouch of E-hydrate's Protein On-the-Go retails for $3.49 and a 3-pack box retails for $11.49. A 10-pack box of the Adult Hydration Drink Mix retails for $9.99 and a 10-pack box of the KIDS Hydration Drink Mix retails for $9.99. Want to order online? Use code MOMSMEET to save 20% on your first order!
One lucky reader will win two E-hydrate Ultimate Sample Packs!
A single pack is valued at $25, so the total prize is valued at $50. Each sample pack contains:
(2) Protein On-the-Go pouches (Chocolate and Vanilla)
(4) Hydration Drink Mix sticks (Lemon-Lime, Red Berry, Orange, and Grape)
(4) KIDS Hydration Drink Mix sticks (Strawberry Lemonade, Fruit Punch, Grape, and Apple)
Contest ends April 27, so enter today!
1 Comment