December's One Successful Mama Profile: Adri Westlake, Moon Star Adri + Giveaway!
December 11, 2015|Posted in: One Successful Mama
"I love that my job gives me the flexibility to walk my kids to school and pick them up each day, while still providing a role model to them." – Adri Westlake, Moon Star Adri
This month, I'm profiling Adri Westlake, founder of Moon Star Adri, a designer of handcrafted, vintage-inspired jewelry for modern women.  Moon Star Adri's ready-to-wear designs and custom sølje filigree pieces are unapologetically feminine, always beautiful, and created in the USA.  Most pieces are made of sustainable sterling silver.
Adri and her hard-working husband Joe live in Maryland with their two "high-energy" children, ages 9 and 4. They also have two feline fur babies, Crookshanks and Gracie Von Katzenburg, and a puppy named Lucy.
---
 As a thank-you to my readers, Adri is giving away a $25 gift card to Moon Star Adri!
To enter, simply comment on this post and let us know what your favorite gemstone to wear is!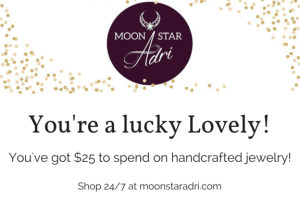 ---
INTRODUCING: ADRI WESTLAKE, MOON STAR ADRI
How long ago did you start your business? What led you to start it? In 2010, I began Moon Star Adri to celebrate the darkly romantic side of Neo-Victorian and Steampunk jewelry.  At the time, it seemed like the jewelry on the market inspired by that time period was too much – too heavy, too "costumey."  I wanted something that was wearable by everyday women.  I put the business on hiatus in 2011 and 2012 for the birth of my daughter and a cross-country move, and reopened in fall of 2013.
What types of services/products do you offer? 
Moon Star Adri offers necklaces, bracelets, and earrings. Most pieces are sterling silver and made from sustainable (recycled/reclaimed) metal.  I do have some pieces made of oxidized silver plated brass as a more affordable option.  Moon Star Adri has standing ready to wear collections, customizable pieces, and also does truly custom, one of a kind pieces.  The Moon Star Adri blog also offers styling tips and product recommendations for the modern woman.
Describe your first few months getting started. What were your major challenges?
I began Moon Star Adri after quitting a very high-stress, low-reward job.  The first few months were… chaotic.  Honestly, I did not plan out my business at all, I just sort of fell into it.  My son, W., was 3 at the time, and my husband was a full-time grad student.  I received most of my sales through Etsy (back when it was small), but it was a struggle to get name recognition.  My biggest challenges starting out definitely centered around balancing my time between my family and my business.  Being home all day with my son and trying to do all my work after he went to bed was exhausting.  Three months into launching my business, I found out I was pregnant with C., so that certainly added to the tiredness!
What has surprised you the most about yourself when it comes to running your own business?
It is a well-known fact among my family and friends that I am bossy, but I was surprised at how much I love being my own boss.  I had been in leadership/managerial roles before, but truly being at the helm and calling the shots is exhilarating.
How has owning your own business benefitted you as a mother and wife?
I think my husband would say that I'm definitely happier when I'm creating jewelry, which makes me a better wife.  I love that my job gives me the flexibility to walk my kids to school and pick them up each day, while still providing a role model to them.  We (the kids and I) share our basement – half is my studio, half is their playroom, so they get to see me working on jewelry pieces.  They both love to give me input on my designs, too!
What do you enjoy the most about owning your own business?
I love the level of control I have, and the flexibility, not just with hours, but the ability to make adjustments on the fly without having to ask anyone else's permission.  I also love the challenge of it all.  I know that the business' success or failure ultimately rests on me, which drives me to work harder.
What are your goals for the future? 
I want to get into the wholesale market and sell my designs to retail stores.  I also want to pursue more actively the bridal market – I've done several custom bridal and bridesmaid pieces, but they have been from past customers.
What advice do you have for women who may want to take the leap and own their own businesses?
Know yourself!  Know what kind of a person you are, and set parameters or routines that will optimize your work.  I'm an "ambivert", and if I stay home all day, every day, I find that I start to go stir crazy after a week and create a bunch of pieces that are not cohesive to my brand.  I now have a standing 'work date' with a friend where we get together and each work on our own respective projects.  I use this time to do the (what I consider) less fun, but necessary, parts of my job – SEO optimization, scheduling social media, pitching to press – computer-based things.
Thank you so much for reaching out to me.  I feel so honored to share my story with you and your readers!
You can follow Moon Star Adri on Facebook, Twitter, Instagram and Pinterest!
Follow One Committed Mama on Facebook, Twitter. Google+ and Instagram!
And if you know a Successful Mama who deserves to be profiled, let me know!
***GIVEAWAY ANNOUNCEMENT!***
WIN a $25 gift card to Moon Star Adri!  To enter the contest, simply comment below and let us know what your favorite gemstone to wear is!
The winner will be notified by email on or about December 28. Your email address will not be sold or used for any other purpose.
18 Comments