COOLA Sunscreen Review + SAVE 20%
August 22, 2017|Posted in: Healthy Living, Moms Meet, Product Review
Disclaimer: I received this product for free from Moms Meet to use and post my honest opinions. Compensation for this post was provided and this page may contain affiliate links.
School is back and session and summer might be winding down, but that doesn't mean we're done with the sun. The hot and hazy days of August are in full swing, and that means that there's still a fair amount of swimming and outdoor playtime left!
Between swimming, yard work, amusement park visits and playing outdoors, we go through 42,978 bottles of sunscreen each year (Ok, I exaggerate…but STILL…we use a TON). With our family's commitment to buying better-for-you products that aren't full of harmful junk, finding a good sunscreen has been an issue.
The biggest problem: Because they form a shield between your skin and the sun's rays, most natural, mineral-based sunblocks go on (and stay) white. They don't absorb into your skin like chemical-based sunscreens. As a result, if you want full coverage, you'll end up looking like a sticky, underdressed mime.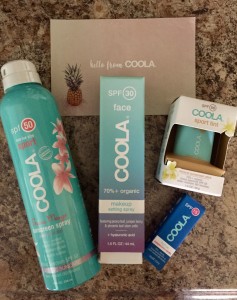 We've tried numerous brands and have had less-than-stellar results, so we were thrilled to have the opportunity to sample COOLA brand suncare, thanks to Moms Meet. COOLA is Farm-to-Face® sourced, and uses 70% organic ingredients like cucumber, algae, and strawberry extracts. Included in my kit were COOLA Sport SPF 50 Guava Mango Sunscreen Spray, Mineral Sport SPF 50 Tinted Sunscreen Stick, Makeup SPF 30 Setting Spray and Mineral SPF 30 Liplux.
The eco-sized Guava Mango Sport Spray was heavenly—and ALL-NATURAL. It's a sheer, lightweight and greaseless spray, making sunscreen application a breeze. The ingredients have numerous antioxidant benefits: Algae extract helps to improve the production of skin's collagen, while aloe vera has anti-inflammatory and cell-renewing properties. Strawberry extract is rich in Vitamin C and helps to protect against environmental damage, while the cucumber extract is known for its healing properties and soothes the skin. AND COOLA products contain NO parabens, paba or phthalates.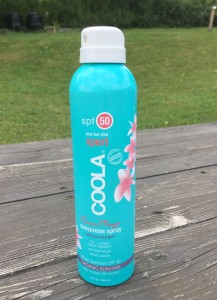 While I try to avoid using spray sunscreens on my kiddo because of the risk of inhalation, she loved the smell so much that she begged me to let her try it, soooo I had her hold her breath and applied it to her torso and limbs (I used the stick for her face). It protected her for a full two hours in full sun in our backyard pool, and was a cinch to reapply after swimming.
Let me just say, the Tinted Sunscreen Stick is also absolutely brilliant. Unlike typical mineral-based sticks or lotions, the COOLA tint blends in flawlessly with your skin, and still provides full, mineral-based coverage. See the results on my skin below. No mistaking me for a mime with this stuff! Score!
The no-touch Makeup Setting Spray provides 30 SPF coverage. I don't wear a lot of makeup in the summer (or, let's be honest, at all, ever). On one of the rare occasions where I "did my face," I spritzed on this product, let it set, and then jumped in the pool. I must say, it smelled delicious and kept my makeup from melting off of my face, all while being splashed repeatedly by a gaggle of rambunctious 7-year-olds. I must say, I was pleasantly surprised that it kept my foundation in place!
COOLA Sport SPF 50 Guava Mango Sunscreen Spray is available for purchase at Sephora, Ulta and Nordstrom, as well as at coolasuncare.com. To find the Sport SPF 50 Guava Mango Sunscreen Spray in your area, visit coolasuncare.com/locator for the full list of locations.
SPECIAL OFFER!
SAVE 20% on all COOLA products by using the code Brozak20 on coolasuncare.com! The code is valid through Sept. 30, 2017.
Connect with COOLA on Facebook, Twitter and Instagram!
Stay current: Follow One Committed Mama on Facebook, Twitter, Google+, Instagram and Pinterest!