Clothes That Love You Back: prAna Review + Discount Code!
March 14, 2017|Posted in: Giving Back, Healthy Living, Product Review
Disclaimer: I received these clothes for free from prAna in exchange for my honest review. All opinions are my own.
Let me start with this: You know how, every once in a while, you try on a pair of pants or a shirt and know—just know—that these pieces of clothing are going to become long-term favorites? That you're probably going to wear these clothes so many times that your friends are going to wonder if you actually own any other outfits?
Well, say hello to prAna.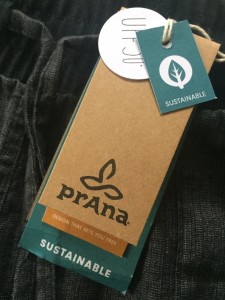 I was lucky enough to be given the opportunity to sample a set of cute complimentary clothes from prAna. I was able to choose both a shirt and a pair of pants, so I picked their "legendarily comfortable" Mantra pant in Black Herringbone (retail price: $75) and the Cleo T-Shirt in Vortex Blue (retail price: $50).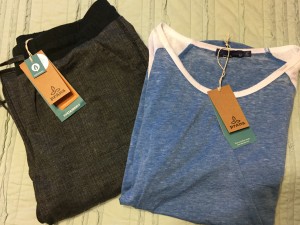 I'm always nervous ordering pants online. I'm tall—almost 5'10"–and I struggle to find pants that are long enough. However, these pants have a 32" inseam, so I took a gamble. I was thrilled when I tried them on, because they fit PERFECTLY, all around. The mid-rise waist is comfortable, and the hemline hits well below my ankle, but not so long that they're dragging on the floor. They're comfortable and versatile—I'd be happy relaxing in these pants at home, but wouldn't feel underdressed wearing them out to run errands or grab lunch with a friend. The same goes for the baseball tee. I usually wear a medium, and this fit true to size. It's super soft and long enough so that it covers my waist. Just like the pants, the shirt is comfortable enough to exercise in, but stylish enough to feel comfortable wearing out and about. The material is soft and high-quality, and seems like it will stand up to multiple washings over time.

While prAna's clothes are cute, fun and fashionable, they're also sustainable, planet-friendly and mindfully made. As a mom who's passionate about the environment and toxin-free living, this is important to me. The company uses organic cotton, hemp and recycled materials to produce their clothes. They also partner with local and international charities to give back and make a difference in communities around the world. The company's ultimate goal is to make sustainable clothing accessible–and important–to everyone.
You can learn more about the company's fair trade and sustainability efforts and why it matters by watching these short videos. Here's one called "Why Hemp Matters: Kind of a Wonder Crop":
And this second one is called, "Why Organic Cotton Matters: Sustainable Clothing Movement:
SAVE 15% USING THIS UNIQUE DISCOUNT CODE!
Want to try prAna for yourself? 
Save 15% off of your entire order by using the discount code PMOMOCM. But hurry — the code expires April 14, 2017!
Connect with prAna on Facebook, Twitter, Instagram, Pinterest, Google+ and YouTube.
You can follow One Committed Mama on Facebook, Twitter, Google+, Instagram and Pinterest!