Book Review: "Fannie Never Flinched" by Mary Cronk Farrell
January 4, 2017|Posted in: Children's Literature, Reading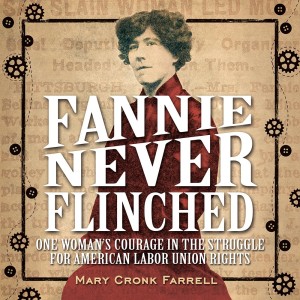 As the mom of a young daughter, I feel that it's critically important to expose young girls to strong female figures, whether from our historical past or modern times. Therefore, when I was given the opportunity to review a copy of Mary Cronk Farrell's new book Fannie Never Flinched: One Woman's Courage in the Struggle for American Labor Union Rights (Abrams Books for Young Readers, Nov. 1, 2016), I jumped at the chance.
In the book, Farrell combines vivid prose, primary research and historical photos to reveal the life and death of Fannie Sellins, a fighter who helped pave the way for labor reform in the United States.
This beautiful hardcover book follows Fannie through her humble beginnings as a garment factory worker in St. Louis, Missouri to her tragic death while marching on a picket line with striking workers from Allegheny Coal and Coke in Brackenridge, Pa. This part of the book was particularly captivating for me because I grew up in the Alle-Kiski Valley, where much of Fannie's fight took place. I didn't realize until I reached the end of the book how much of her life was spent in the same area where many of my family members reside.
After a decade-long career fighting for labor rights, Fannie was beaten and gunned down on a picket line in Natrona in 1919, and was buried at the Union Cemetery in Arnold, just a few minutes from my grandmother's old house. Her funeral took place at Mt. St. Peter's Church, also in Arnold — the same church in which my brother and sister-in-law were married.
I found Fannie Never Flinched to be a fascinating and well-researched look at the disparity amongst laborers in the early days of the American Industrialization. I was inspired by Fannie's tenacity and humbled by the hardships she had to endure. The book is geared toward middle-grade students, yet this is a story that older children and adults would enjoy, as it's a fascinating look into one of America's-lesser known heroines.
I had the opportunity to ask Farrell a few questions about her book, including what inspires her research.
I understand that you're a former TV journalist. When did you first start writing books for young people, and what led to your interest in the historical fiction/nonfiction genres?
I left TV news to stay home with my kids full time and eventually started writing freelance articles for newspapers and magazines, including a regular column on spirituality and family life. I had planned to go back to TV news, but grew attached to the freedom of working from home and being my own boss. I'd always had this idea in the back of my mind that when I retired I'd write books for kids, so when my youngest went to preschool, I thought, "why not retire now?" As a kid, I devoured books, read one a day when I was in junior high. I read all kinds, but historical fiction was my favorite, so that's what I started writing. I didn't intend to write true stories. I wanted to stretch and learn to write fiction, but when I ran across Fannie Sellins by accident, the story pricked my old news sense. I knew it was an important, fascinating story that needed to be told. Same with my other nonfiction book, Pure Grit: How American World War II Nurses Survived Battle and Prison Camp in the Pacific. Even though it's history, American women captured POW by the Japanese was news to me, and I couldn't pass up the story.
What was it about Fannie's story in particular that inspired you to write a book about her?
What hooked me from the beginning was Fannie's courage. I was driven by the question of how she gained the courage to continue showing up on the picket line and encouraging men to strike when company gunmen had threatened to kill her. I wanted some of that.
What details of her life surprised you the most?
I learned a couple things from Fannie's life that have become important to me. I deduced from researching her life that she probably gained courage in small ways over time. She did not end up on the picket line in a hail of bullets overnight. She started with small acts of courage like getting up to speak to a crowd when she was scared and didn't have any experience in public speaking. After a number of years speaking out in support of fellow garment workers, she moved to West Virginia to organize for the United Mine Workers Union, which was illegal in the state. She defied a judge by speaking publically in support of the union, though she knew she could be arrested. She was convicted and spent four months in jail. Studying her life, I realized compassion for others was a huge motivation for Fannie. It didn't really surprise me that compassion would be at the crux of her courage, but still, it deeply affected me.
What type of feedback have you received about Fannie's story?
This is a difficult question because the book is so new that I haven't received much feedback yet from readers. The official reviews from adults like Publisher's Weekly, School Library Journal, and Booklist have been terrific. Amazing, really. I am really looking forward to hearing from young people once they've had a chance to read about Fannie.
Why do you think it's important for young people to read these types of accounts?
I think it's important because stories like Fannie's help fill out the historical record of women's achievements. Fannie did what was a man's job at the time, and she did it very well. It's also important because stories like Fannie's help us view current events through the lens of history. Why muddle through current situations, when we can learn from the past? There are many parallels between Fannie's time and today. Perhaps most important, reading Fannie's story can be an inspiration to us. Seeing the power compassion had in Fannie's life has caused me to commit to nurturing my own compassion.
What new projects do you have lined up?
My next book is the story of African Americans who served in the Women's Army Corp during World War II. They faced the war abroad and the violence of racism at home. It's another story of courageous women!
Fannie Never Flinched sells for $19.99 and is available for purchase on Amazon.com.
Stay connected! Follow Mary Cronk Farrell on Facebook and Twitter.
Follow One Committed Mama on Facebook, Twitter, Google+, Instagram and Pinterest!
Disclaimer: I received a copy of this book for free in the hope that I would mention it on my blog. Regardless, I only recommend products or services I believe will be good for my readers. The opinions expressed here are my own.