Questburgh Escape Room Review
February 14, 2017|Posted in: Family Activities, Product Review
By now you're probably familiar with the concept of an "escape room," a game in which you're locked in a room with other people and given clues–and a time limit–to find your way out.
Escape rooms have been popular in Japan for about a decade. In the past few years, they've made their way to the United States. Several escape rooms have opened up here in Pittsburgh in recent years, but only one local business, Questburgh Escape Room, has options for both adults AND younger children—which is awesome if you're looking for something new and exciting to do with your kiddos!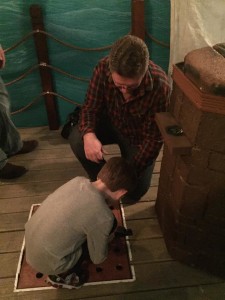 We've been wanting visit an escape room for a while now, so we were excited when Questburgh's owner contacted me and asked if we'd like to test out the kid-friendly Pirates Escape Room game. We invited some friends and headed down to the room, which is located on 6th Street, just off of Carson Street on Pittsburgh's South Side. Together, we had 4 adults and 3 children, ages 7-11.
We were greeted by a very friendly and energetic guide, who provided us with instructions for making the most of the game. We had 60 minutes to find our way out of three separate rooms and make our way to the buried treasure. We had to work together to solve a series of puzzles to try to open the door to the first room, and then the second, and then the third, where you're tasked with trying to solve a final puzzle that will unlock the treasure chest. It was not easy, by any means, and we were thankful that we had our guide available to drop hints via a camera and two-way intercom.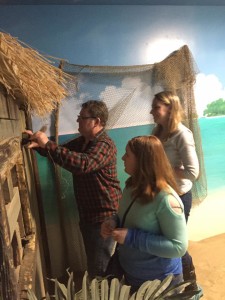 We did have a slight hiccup. My little one, who was the youngest at at 7, grew quite nervous when we entered the first room. She wasn't sure what to expect and freaked out when the lights went out and objects started to glow and move by themselves. My husband actually ended up having to take her back to the lobby because she was just too scared to continue (thankfully, there was candy in the waiting area, which lifted her spirits). She came back to see the last room (the beach room, where the treasure chest is located), but skipped the second room entirely. So, if your child is frightened by spooky music, weird lighting or skull-and-crossbone-type decor, this might not be the best activity for your family. The other children who were with us had a great time trying to solve the tricky puzzles.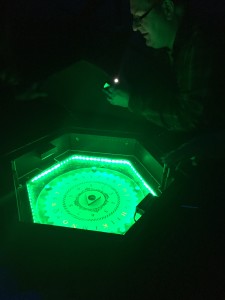 Children ages 5 to 9 must be accompanied by an adult in the Pirate room, but children who are 10 and up can play without adult supervision. While the rooms are monitored by staff to ensure safety, it would be great if there was a TV monitor somewhere so that parents could keep an eye on their kids if they're on their own in the rooms.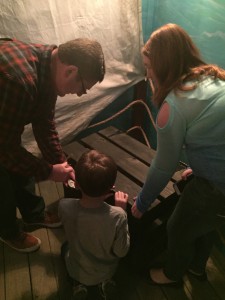 Overall, it was a fun afternoon and I'd love to return just with just the grown-ups to test out the Mafia Escape Room. It would also be a unique experience for a birthday celebration!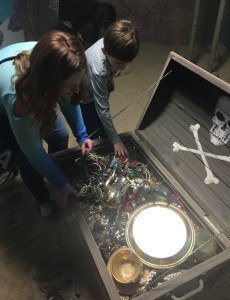 Questburgh costs $28 per person, and free on-street parking is available nearby. Teams can consist of 2 to 7 people, and the minimum age for children to participate in the Pirate Escape Room is 5 years old. I would love to see the company offer a package rate for families coming with young children to help make it more affordable.
One note of caution: to add to the pirate-themed atmosphere, the floor of the third room is covered in sand, so it was quite dusty in there. This could be problematic if you or your kids have allergies or breathing issues. Questburgh provides you with booties to cover your shoes, but they wouldn't stay on and sand got stuck to our shoes anyway. This isn't a big deal, but if you're planning on attending, be sure to wear old shoes or at least ones that can be easily wiped off (no suede).
For more information or to book your adventure online, click here.
And be sure to follow Questburgh on Facebook, Instagram and Twitter for news, updates and promotional offers!
Thank you to Gino and to the staff at Questburgh for this fun, enjoyable experience!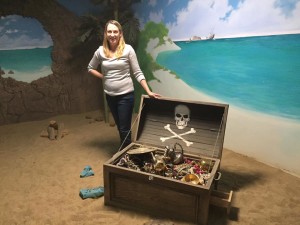 Disclaimer: I received free admission to this activity in exchange for an honest review on my blog. The opinions stated here are my own.
Follow One Committed Mama on Facebook, Twitter, Google+, Instagram and Pinterest!