Product Review: Murchison-Hume Cleaners + Awesome GIVEAWAY! #MomsMeet #MurchisonHume
February 17, 2016|Posted in: Healthy Living, Moms Meet
Disclaimer: I received this product for free from the sponsor of the Moms Meet program, May Media Group LLC, who received it directly from the manufacturer. As a Moms Meet blogger, I agree to use this product and post my opinion on my blog. My opinions do not necessarily re ect the opinions of May Media Group LLC or the manufacturer of this product.
When I was a kid, one of my chores was to clean our bathroom. Groaaaan.
My mom would give me this cleaning spray that was potent enough to separate Kanye West from his ego. It would make my eyes water and my nostrils burn. Sure, it would get the job done, but it sure as heck wasn't a pleasant experience.
For most of my adult life, I relied on those old standards for my own cleaning needs. My shelves were stocked with the usual host of ammonia- and chlorine-based products products that apparently require an "X" in their brand names to be effective.
I never questioned the effectiveness of these products – nor did I ever question their safety. Not until last year, when I was diagnosed with thyroid cancer. And then I started down the rabbit hole of discovery about how our "toxic load" can affect our health…namely our endocrine systems.
Some facts for ya:
Studies show the average American is exposed to nearly 84,000 chemicals EVERY DAY – and only about 1 percent of those chemicals have been studied for safety.
These chemicals, like triclosan, formaldehyde, parabens and phthalates, have been linked to everything from infertility to nervous system problems to cancer. To date, the European Union has banned 1,300 of these chemicals. The U.S.? Only 11.
AND the last law that was passed to control these chemicals was passed in 1976.
1976.
40 years ago.
It's safe to say that a lot has changed in 40 years.
Now, if you've been reading my blog for a while, you know that over the course of the past year, we've been swapping out all of our commercially available products with natural, non-toxic ones. This includes shampoos, lotions, dental products, makeup, and, finally, our cleaning products. We've stopped using dryer sheets (and instead use Woolzies) and have experimented with creating our own cleaners with reasonable success.
So, I was beyond thrilled when Green Moms Meet gave me the opportunity to review the Murchison-Hume line of natural, non-toxic cleaning products.
Murchison-Hume was created by Max Kater, former fashion editor and mother of two, when her son developed allergic sensitivities to common household cleaning products.
She made it her mission to create cleaning and personal care products that would be safe, easy to use, beautiful, and effective. All of their ingredients are of the highest quality and their formulations are designed to be highly effective, while maintaining product safety and stability.
Murchison-Hume cleaning products
are 99% or more natural and are always free of ammonias, bleach, dyes, formaldehyde, parabens, and phthalates.
rapidly biodegrade into harmless by-products after drain disposal.
are made in the USA and are powerful, natural germ fighters that also eliminate odors without the use of harsh chemicals.
can be used on any surface not harmed by water.
are never tested on animals and are 100% cruelty-free.
In my kit, I received the company's Bathroom Cleaner, Glass Cleaner, Everyday Furniture & Upholstery Cleaner, Effortless Floor Cleaner, Spit & Polish Stainless Steel Cleaner, Counter Safe All- Purpose Cleaner, and a super-cute Murchison-Hume Jute Tote.
I've been using these products for about a month now, and I can honestly tell you: I'm in love. The first thing I noticed was the smell. It smelled like fruit. Australian white grapefruit, to be exact. No eye-watering or nose burning…just a heavenly fragrance that permeated the air. Yay!
I've used them on my kitchen counters, floors, and furniture and on the grossest part of the house: the bathroom. They cleaned just as well as commercial products, if not better. These products make my counters sparkle and my mirrors shine, streak-free. I've used them to clean up nasty pet accidents, scrub sticky toothpaste-covered sinks, and sticky countertops.
I had my doubts about replacing my trusty Pledge for cleaning our wood furniture, but lemme tell you: This stuff works. It made my coffee and end tables shine just as well as my ol' Lemon Pledge.
AND since my little one loves to help me clean, I didn't have to worry about her inhaling nasty chemicals or getting them on her skin. The products are described as "people, pet and plant friendly."
In fact, Murchison-Hume has a dog care line too! "Best in Show" products are scented with essential oils that keep your best friend naturally pest free without the use of synthetic fragrances or silicone.
In addition, the company offers refill and bulk buy options, which can be delivered right to your door at significant savings every day. The bottles are pretty, too.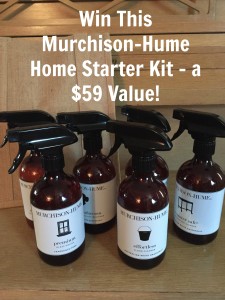 WIN A MURCHISON-HUME HOME STARTER KIT WORTH $59!
NOTE: This giveaway has ended.
You can enter to win a Murchison-Hume Home Starter Kit worth $59 (the same one I received!) The kit includes:
Bathroom Cleaner
Glass Cleaner
Everyday Furniture & Upholstery Cleaner
Effortless Floor Cleaner
Spit & Polish Stainless Steel Cleaner
Counter Safe All- Purpose Cleaner
Murchison-Hume Jute Tote.
To enter, simply comment on this post by sharing your biggest cleaning challenge! Is it keeping the bathroom clean? The dishes washed? The laundry done?
Last day to enter is February 28. The winner will be chosen on or about February 29.
Don't wait – enter today!
Note: This giveaway has ended.
In the meantime, you can SAVE 20% on any order at murchison-hume.com! Simply enter the code MomsMeet20 at checkout (valid through March 31, 2016).
Be sure to follow Murchison-Hume on Twitter, Facebook, Instagram, and Pinterest!
And follow One Committed Mama on Facebook, Twitter. Google+, Instagram and Pinterest!
25 Comments