Karla Lemmon of "Little Peanut on the Go" is One Successful Mama!
February 11, 2016|Posted in: One Successful Mama
"I enjoy my flexibility the most. I'm able to walk my son to the bus stop and be there when he arrives home, plus I've been able to spend time in his classroom volunteering." – Karla Lemmon, Little Peanut on the Go
This month, I'm profiling Karla Lemmon, founder of Little Peanut on the Go, a mobile app that helps parents manage their on-the-go lifestyles.
The app helps parents create packing lists and to-do lists, build care schedules to share with caregivers, and connect with their children, via photos and updates, while they're away. Karla lives in Minnesota with her husband and 6-year-old son. 
How long ago did you start your business? What led you to start it?
I was working full time as a software product manager. My son was about to turn five and I wanted to make a change in my life so that I would be able to be with him before and after school and during summer breaks once he started school.
My husband and I used to travel a lot for both work and pleasure prior to having our son. Once he arrived, travel became difficult. Let's face it, just leaving the house became difficult! There was always so much stuff to keep track of that I ended up making lists. Then if we left him with a sitter or my parents I had to make more lists – emergency contacts, care instructions, and schedules. I realized I was writing the same information over and over again, which was frustrating and such a waste of time.
Eventually I started using a smart phone and I found apps to help me with grocery shopping and our internal family schedule, but I wasn't able to find an app to help me prepare for outings and travels. So, I decided to make one! I worked on the idea while still employed for 1.5 years and then launched mid-2015.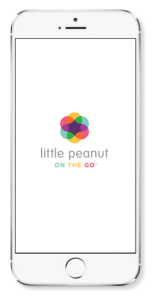 What types of services/products do you offer?
Little Peanut on the Go is a mobile app to help parents stay organized and connected when they, their children, or their whole family is away from home. Parents can build packing lists and to-do lists, create emergency information and care instructions to share with caregivers, and connect with their children while they're away.
Parents can download Little Peanut on the Go at no charge to prepare for outings with packing lists for their children and to-do lists for themselves. The app has a library full of items and tasks to choose from, making your list building quick and easy. Packing lists are categorized and may be filtered by child for easy packing.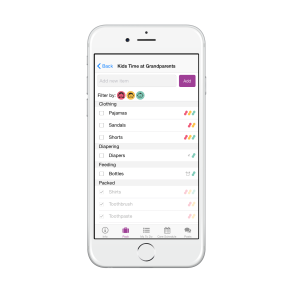 If their children are going to be with a caregiver (babysitter, nanny, grandparent, etc.), parents can create and store emergency information such as doctors, medical facilities, allergies, and phone numbers in the app. They can also build the children's daily schedule and care instructions, including bottles, mealtimes, naptimes, bedtimes and medications, plus special events like swimming practice and soccer practice. Then, with a one time in-app purchase for less than a cup of coffee, parents can upgrade their app so they can share this information with their children's caregiver. All the information needed to take care of the children will be right at the caregiver's fingertips.
The key for parents is that everything is stored in the app so they don't have to make lists anymore. Packing and to-do lists can be copied and re-used for future outings. The children's daily schedule is stored, and if something like a nap time changes, parents can make a quick edit and the caregiver will have the update. Parents can even connect with their children while they're away with photos and updates in a private message board.
Whenever parents need a sitter or a suitcase, Little Peanut on the Go will help them stay organized and connected while they're on the go. I also share helpful information on my social channels for on the go families, including tips and hints on travel, activities, and childcare resources.
Describe your first few months getting started. What were your major challenges?
The first few months were the most difficult as I was still working full time. I don't have a co-founder, so doing everything myself was very hard. As I was making most decisions on my own, I found myself second-guessing everything.
What has surprised you the most about yourself when it comes to running your own business?
I've had two surprises along the way. The first was having the courage to enter an app competition when I was still in the concept stage. I was one of eight finalists – I was the only female and the only one still in concept – to present to an audience of several hundred. The audience voted me as the winner of the competition! It was such an amazing feeling and gave me the confidence boost I needed to move forward with the app.
The second surprise is how much I've been able to teach myself. I started this to build an app but I've added many more skills, including social media, graphics, and blogging. I've learned so much that I can now offer mentoring and assistance to others.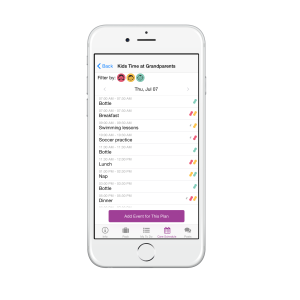 How has owning your own business benefitted your family?
I definitely put in a lot of hours, but the key is that they're now flexible. I'm able to get tasks done during the weekdays so that our family has more time to enjoy together in the evenings and on weekends. I'm also happier, which makes our time together all that more enjoyable.
What do you enjoy the most about owning your own business?
I enjoy my flexibility the most. I'm able to walk my son to the bus stop and be there when he arrives home, plus I've been able to spend time in his classroom volunteering. He's so happy and so proud during those times and his smiles reinforce that this was the right move. When he tells people, "My mom built an app!" or yells, "Little Peanut on the Go!" it puts a big smile on my face, too!
What are your goals for the future?
I have ideas for additional apps and would love to bring them to market. I'm also contemplating a consulting service for other aspiring entrepreneurs.
What advice do you have for women who may want to take the leap and own their own businesses?
At the very least, give yourself permission to invest the time in investigating your idea. Then take the leap if you can, as you don't want to have regrets later in life.  Also, try to find a support system of other entrepreneurs. You'd be surprised how many are out there. It's so important to have someone else to talk to, just to know you're not alone.
***Download Little Peanut on the Go for free from the iTunes App Store or on Google Play!***
Be sure to follow Little Peant on the Go on Facebook, Twitter, Instagram, Pinterest and YouTube!
And follow One Committed Mama on Facebook, Twitter. Google+, Instagram and Pinterest!